We're beyond excited to introduce you to Fastly's Community Forum. We've been working closely with our community to build an interactive, inclusive hub for our customers and fellow web performance nerds. The Forum is a place to share knowledge, give and receive help, and learn more about Fastly.
Our customers and employees are already actively solving problems together in our IRC channel (#fastly on irc.freenode.net), via email, and in person at conferences and meet-ups. We built the Forum to capture the information shared by Fastly employees and our community in a searchable, evergreen knowledge base about Fastly products, operations, and web performance in general.
Who Should Join?
Everyone is welcome. We created the Forum to bring together people who are creating a better and faster Internet — you don't have to be a Fastly customer to participate. Fastly employees will also be active in the Forum, and our support and engineering teams will jump in to help with tough questions.
How to Use the Forum
We've chosen Discourse as our Forum platform due to its developer-friendly and community-focused technology. The platform is intuitive and easy to use — to get started, just sign up and check out our Community Guidelines. Once you've chosen your username, you can jump right in. You'll find categories on fine-tuning Fastly's CDN, web performance, Varnish, video, and plugins/API, among others. Use the Meta category to suggest changes to the Forum, or ask questions about the features and functionality of Discourse.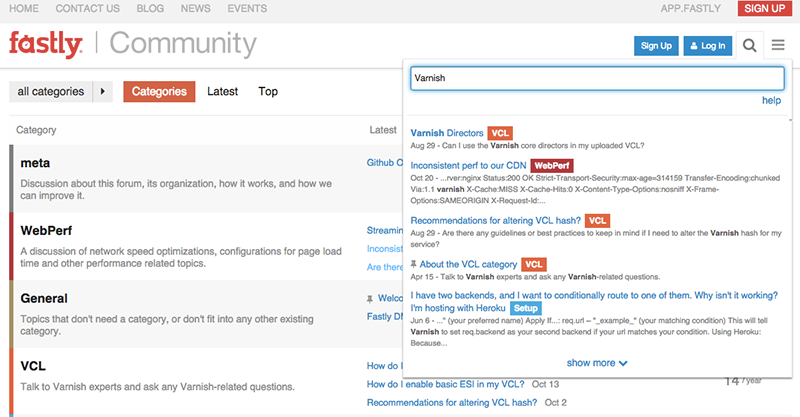 Try It Out
We care deeply about our customers, and have become close to many of you over the past few years. It's been extremely humbling and exciting to help your businesses grow. Your companies are incredible, and the people working there are awesome. We're excited for you to meet each other and the Fastly community at large. Head over to community.fastly.com to get started.