Fastly Edge Platform: The technology behind better businesses
Compute@Edge
Edge Computing
Network services
Edge cloud platform
Web Application Firewall (WAF)
Compute
Observability
Technology is the muscle behind user experiences, and it directly relates to your bottom line. By leveraging the right infrastructure, you can build and scale smarter, optimize the user experience, and improve security.
The Fastly Edge Cloud Platform ensures your websites, applications, and services are able to scale and meet the demand of your users, are delivered securely, and as fast as possible. Our modern network is designed to give you a competitive edge with built-in security, so you can deliver content quickly and confidently.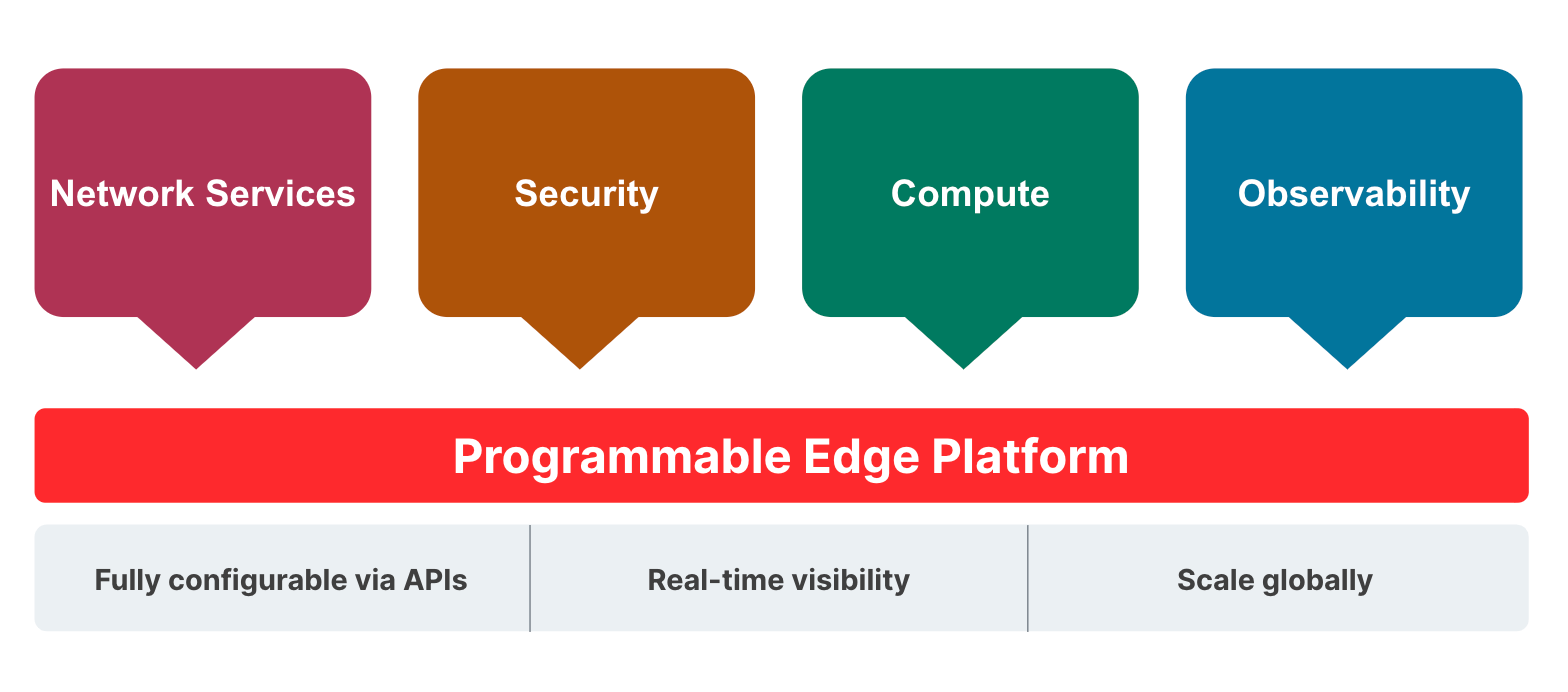 Network Services 
Fastly Network Services deliver more than just a CDN. Our modern architecture and infrastructure will improve the performance of your site, scale the impact of your DevOps and SecOps teams, and save you money all at the same time.
Performance: Fastly's edge cloud platform enhances web and app performance by accelerating dynamic assets and caching unpredictably changing content for faster page loads, downloads, video/audio streams and personalization.

Control: Fine-grained content control allows you to create custom caching rules, upload to our POPs and activate/ deactivate on the fly without engaging with Professional Services.

Configurability: Fastly's fully configurable CDN enables you to change content quickly, even event-driven content. Easily adjust your configuration settings via an API and roll back changes as needed, while automating and enhancing workflows. 
Compute@Edge
Fastly's Compute@Edge offering allows you to build high scale, globally distributed applications and execute code at the edge — without having to manage the underlying infrastructure. 
Instant: We allow developers to run complex code in microseconds across multiple environments, helping deliver faster, more personalized experiences at the edge and allowing teams to innovate faster without introducing latency. 

Developer-friendly: Compute@Edge is truly developer-friendly. We support languages that developers already know and use like Rust, Go, and JavaScript, with more WebAssembly-supported languages to be added over time.

Secure: Safely develop at the edge with our innovative isolation technology, which removes an entire class of security vulnerabilities — side-channel attacks — and significantly minimizes the customer's attack surface area. And our per-request isolation reduces the effects of buggy code or configuration mistakes.
Security
The Fastly Next-Gen WAF (powered by Signal Sciences) is the only web application firewall that can protect your websites, apps, and APIs everywhere from one unified solution. It's so effective, almost 90% of customers use it in blocking mode.
Accuracy: Unlike legacy WAFs which suffer from false positives, break applications, require substantial overhead to tune, and slow down feature development, our Next-Gen WAF's unique technology allows for highly accurate blocking without constant rules tuning.

Flexibility: With the most deployment options and the best performance, our WAF's flexibility allows teams to rapidly deploy, making it faster and easier for teams to adopt where they need it, when they need it, and then run it at scale.

Ease-of-Use: Fastly's Next-Gen WAF delivers the best combination of "Powerful" and "Easy-to-Use." This leads both the largest enterprises in the world and the fastest-growing startups in the world to choose to work with us.
Observability
Developers need powerful and intuitive observability functions that quickly diagnose issues to maintain uptime and performance. Fastly's Observability products help you track and ensure the health of your applications to meet your business objectives. 
Visibility: Fastly's Edge Observer provides per-second visibility and historical reporting across multiple services in a single pane of glass. Consume metrics and logs along every part of the request path in real-time, without adding latency.

Flexibility: Log any aspect of HTTP requests and responses through a large variety of logging formats (e.g., Common Log Format, JSON, Key/Value, CSV, etc). We also support an extensive variety of integrations (33+) to integrate into your workflows.

Insights: Experience low-latency, real-time logging that goes back to the day of service creation. We log 100% of Origin-to-edge metrics and data - including over 200 metrics related to client, origin, cache, Fastly products, and more.
Meet a more powerful global network.
Our network is all about greater efficiency. With our strategically placed points of presence (POPs), you can scale on-demand and deliver seamlessly during major events and traffic spikes. Get the peace of mind that comes with truly reliable performance — wherever users may be browsing, watching, shopping, or doing business.
277 Tbps
Edge network capacity1
150 ms
Mean purge time2
>1.4 trillion
Daily requests served4
~90% of customers
Run Next-Gen WAF in blocking mode3
➀As of June 30, 2023
➁As of December 31, 2019
➂As of March 31, 2021
➃As of January 1, 2022
Support plans
Fastly offers several support plans to meet your needs: standard, gold and enterprise.
Standard
Free of charge and available as soon as you sign up with Fastly.
Gold
Proactive alerts for high-impact events, expedited 24/7 incident response times, and a 100% uptime Service Level Agreement (SLA) guarantee.
Enterprise
Gives you the added benefits of emergency escalation for support cases and 24/7 responses for inquiries (not just incidents).