A new architecture for the modern internet
Deploying thousands of small, scattered points of presence (POPs) may have worked for legacy CDNs in the dial-up era, but the internet has become increasingly dynamic, and spinning disks no longer get the job done. Fastly has taken a fundamentally different approach: we've focused our efforts on placing fewer, more powerful POPs at strategic locations around the world. With Tier 1 transit, solid-state drive (SSD) powered servers, and an engineering team that lives to optimize for speed, we've built a blazing-fast network that requires less hardware to deliver comprehensive global reach. Fastly's high-density POPs enable us to serve more from cache, including static and event-driven content. This improves your cache hit ratio, resulting in better user experiences.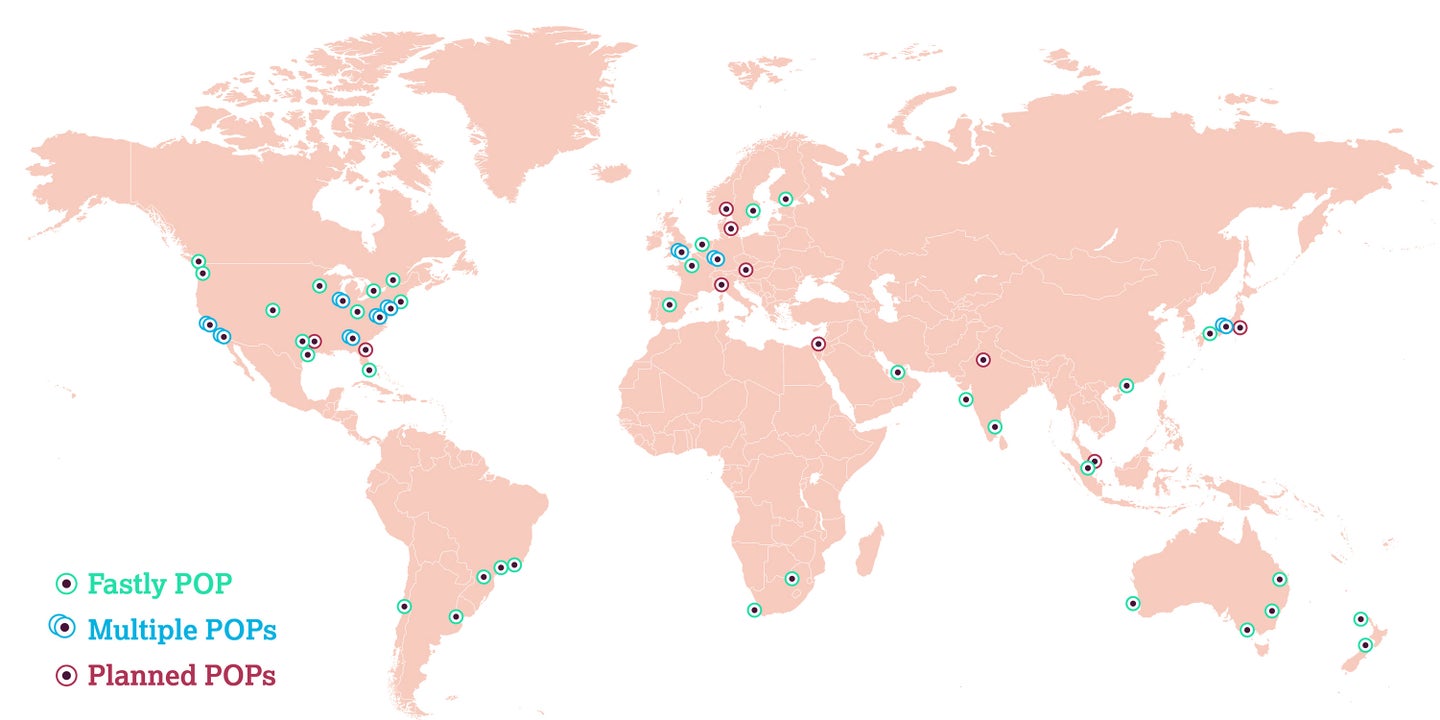 ---
** Last Updated: April, 2019 **
45 Tbps of connected global capacity
North America
Ashburn 3X
Atlanta 3X
Boston
Chicago 3X
Columbus
Dallas
Denver
Houston
Los Angeles 2X
Miami
Minneapolis
Montreal
New York 2X
San Jose 2X
Seattle
Toronto
Vancouver
South America
Buenos Aires
Curitiba
São Paulo
Santiago
Rio de Janeiro
Europe
Amsterdam
Frankfurt 2X
Helsinki
London 2X
Madrid 
Paris
Stockholm
Africa
Asia
Chennai
Dubai
Hong Kong
Mumbai
Osaka
Singapore
Tokyo 3X
Australia & New Zealand
Auckland
Brisbane
Melbourne
Perth
Sydney
Wellington
Coming soon
Copenhagen
Dallas #2
Jacksonville
Milan
New Delhi
Oslo
Singapore #2
Tel Aviv
Vienna
Fastly cache server specs
24 TB of SSDs
768 GB of RAM
4 x 25 Gigabit Ethernet
Performance by the numbers
150 ms to purge - globally
~ 5 sec to change a config through the web API
Sub-millisecond TTFB on the 99th%
Peering with Fastly
Fastly peers with other Internet Service Providers (ISPs) and Content Networks with IPv4 and IPv6 connectivity on Autonomous System (AS) 54113 for the purpose of exchanging traffic between these networks. To learn more about peering with Fastly, visit our peering page.