The Gaga Dive, and other Super Bowl phenomenon
Because we power tens of thousands of websites, including top publishing, ecommerce, and SaaS companies, we can gather key insight into how people are engaging with brands online. The Super Bowl (or, as we refer to it internally: the Superb Owl, which is also a perennial search-term favorite) is one of the most-watched events in U.S. television, and presents a unique opportunity for companies to reach prospective customers through clever and well-placed advertising. As CNBC notes, "Nowhere else will you get a live audience — reaching roughly one-third of the U.S. population — that is eagerly anticipating both the game and the ads."
This year, brands with ads drove an average increase in engagement of 437%, with a particularly popular ad causing an increase in engagement of 1,880%, but that wasn't the only engagement we observed — like last year's big game, people signed off to watch the kickoff and halftime shows, and music streaming services saw an increase in engagement as fans rushed to identify songs in commercials.
Super Bowl 51: the Gaga Dive
Last year's game was the third most-watched broadcast in U.S. television history, drawing around 111.9 million viewers and 16.9 million tweets. Around 111.3 million people tuned in for Super Bowl 51, down slightly from last year, but social media engagement was up: according to Twitter, fans sent over 27.6 million tweets using the hashtag #SB51. In terms of global internet traffic, we observed a dramatic drop at kickoff and at the start of Lady Gaga's halftime show.

Unplugging for kickoff + halftime
Viewers put down their devices to focus on the television at key points during the Super Bowl. Global traffic began to drop around 5 PM ET as sports fans began tuning in for the big game. By kickoff, it had dropped 19.7% – lower than the 12% drop at last year's kickoff. Traffic dropped again at halftime (8:13 PM ET) by another 23% as viewers focused their full attention on Lady Gaga's performance — an even more significant dip than last year's halftime Beyoncé Drop of 15%, and 16.5% lower than the same time the previous week.
After the halftime show ended and the game resumed, viewers got back online — at 8:30 PM ET, traffic rose by 24%, leveling off with typical traffic patterns for that time of day.
The Gaga Dive: eliciting social + music engagement
Last fall, Lady Gaga debuted songs from her album Joanne at dive bars across the country; this year's halftime dip (which we're hereby referring to as the "Gaga Dive") reflected viewers tuning in by logging off. This was complemented by spikes in engagement immediately following the performance — after the halftime show ended, viewers went online to discuss the performance, reflected by a 53% rise in new media traffic.
Shazam, the popular app for music identification, saw spikes in traffic throughout the Super Bowl (such as when a commercial was playing a song). Shazam's biggest increase in traffic was at 8:22 PM ET when Lady Gaga played her new song, with a surge of 337% as fans rushed to "Shazam" the song.
Ads continue to drive engagement + discussion
At $5 million apiece, a Super Bowl ad can be considered a costly investment, but they pay off: the cost per viewer is 50% less than traditional network ad spend, and they foster discussion and extra views beyond the original air date — for example, a YouTube video of last year's ads has over 7.5 million views. Online engagement with brands immediately after ads aired also suggest that they make an impression: on average, our customers with ads saw traffic increases of 437%.
Audi of America
Audi of America's Super Bowl ad was garnering praise ahead of the game for its focus on gender pay equality. The ad aired at 8:30 PM ET, and we saw an immediate surge as viewers rushed to engage with the brand online — traffic to audiusa.com spiked by an impressive 1,880% shortly after the ad aired.
Event-specific publications: New England news + women's interest
Much like the rest of the country, the internet users of New England got offline to watch the game: traffic to New England-based publications was 37% lower as compared to the same time last week as anxious sports fans watched the game instead of checking the news.
We also took a look at requests coming from the Boston area — traffic remained lower than the week prior throughout the game, dropping to 34.6% below the previous week at 8:19 PM ET.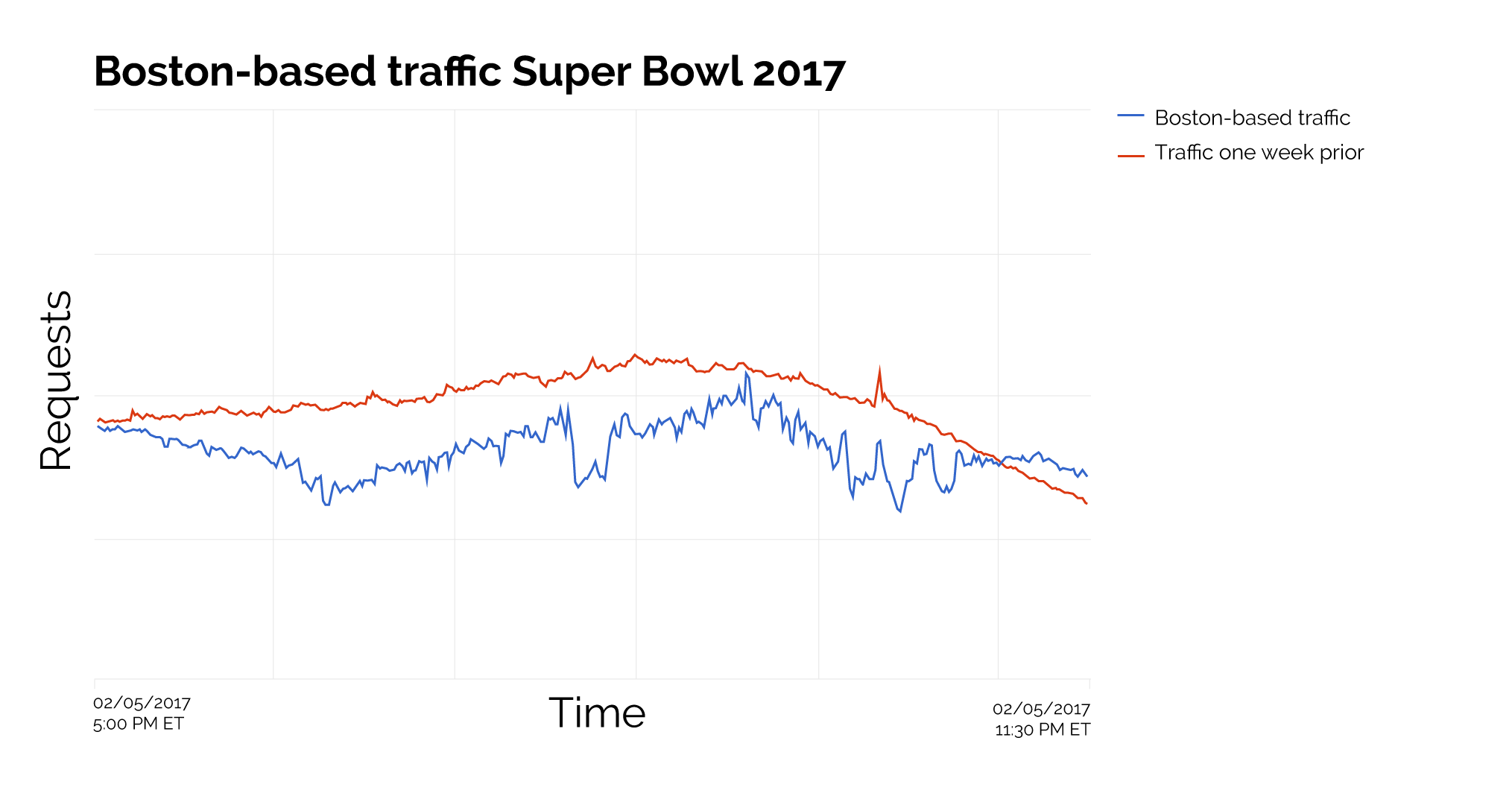 We also took a look at women's interest publications to see whether Lady Gaga's performance drove engagement. Similar to global traffic patterns, we saw a 24% drop in traffic to these publications at the start of the halftime show as fans focused on Lady Gaga. Following the halftime show, traffic rose back up by 36% as viewers went online to engage with post-halftime coverage. Overall, traffic to women's interest publications was 38% higher than the same time the previous week.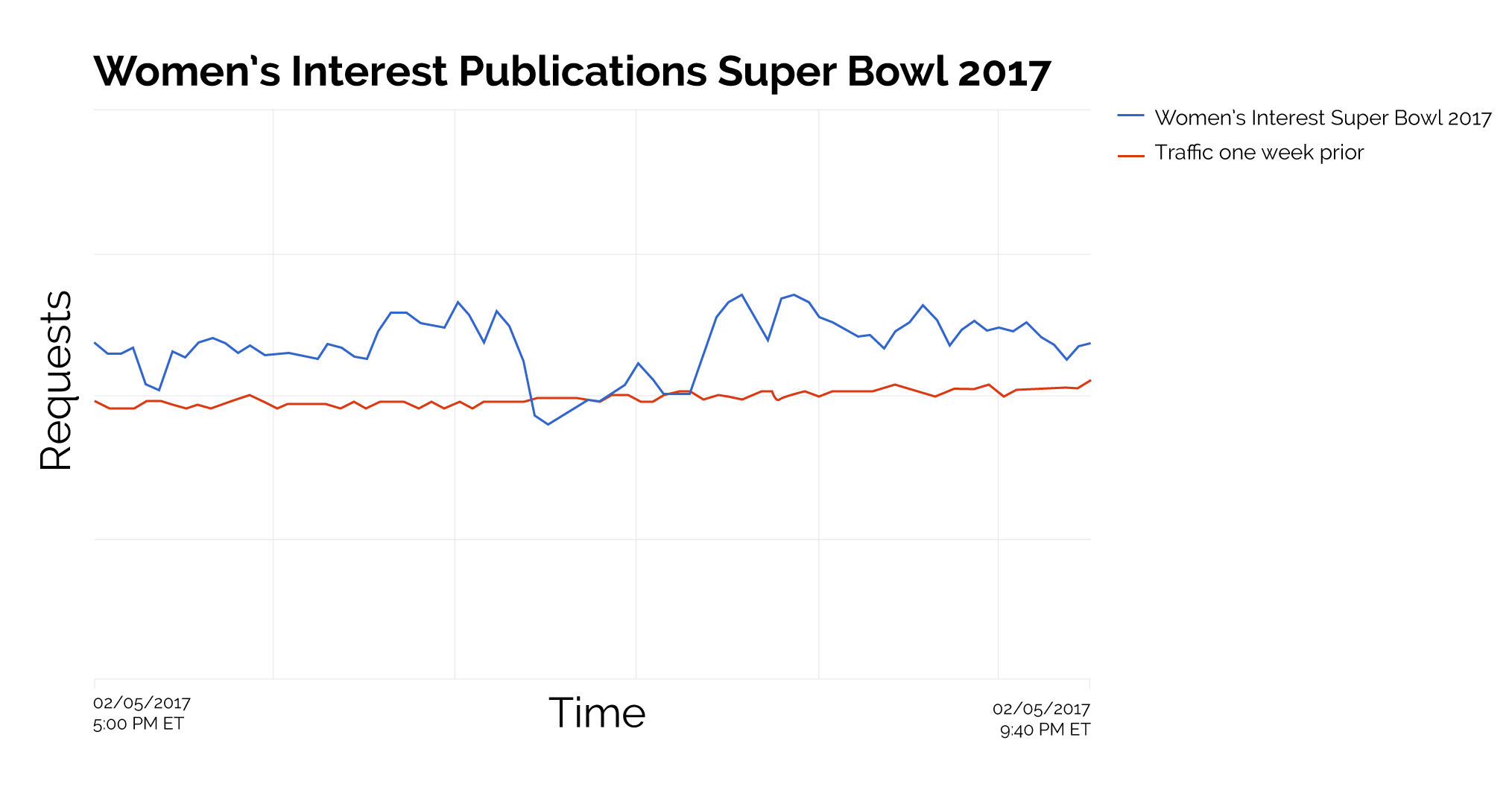 A big thank you to our customers who worked with us to share these real-time insights during the Super Bowl, and stay tuned — we'll continue to recap patterns of engagement during major events.