Origin Inspector
Explore datasets and visualizations that offer real-time and historical visibility into responses delivered from your origin servers to the Fastly Edge Cloud. Effortlessly monitor every origin response, byte, status code, and more without needing to send log data to a third-party data collector.
Uncover granular visibility to maintain origin uptime
Access every response from origin to edge so you can report and react in real-time to changes in origin behavior.
Simplify data pipelines with templated or custom visualizations
Monitor and report on egress data within the Fastly UI without needing to set up complex data pipelines.
Improve performance with real-time and historical data
Access both real-time and historical data to help you troubleshoot errors, improve origin performance, andn fuel observability driven development.
Verify cost reduction from Fastly shielding
Quantify origin infrastructure and egress cost savings to make more informed business decisions.
Need more information?
Check out our Origin Inspector FAQ for details around product capabilities, enablement, and pricing.
Origin Inspector FAQ
With Origin Inspector, you can:
Proactively monitor and react immediately to unexpected origin issues.

Get end-to-end visibility of traffic to and from your origin during critical calendar and live events. 

Account for every origin response, origin byte, status code, and latencyto troubleshoot origin errors and failures.

Quantify origin infrastructure and egress cost reduction, especially with shielding.
Enable today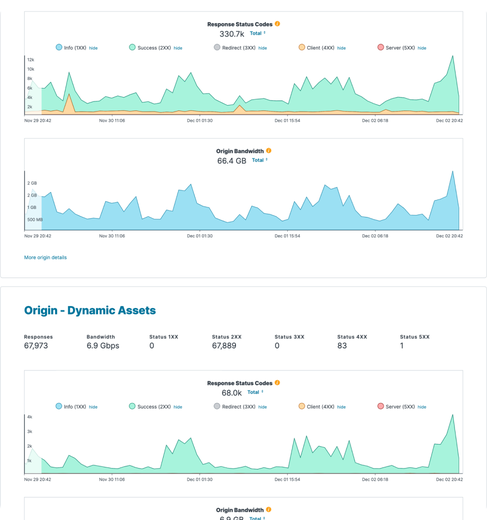 Using Origin Inspector to monitor real-time egress traffic and errors at the per-origin level hugely simplified our origin visibility — and we were able to connect it to our existing alerting solution.
Ryan Townsend
Co-Founder & CTO

With Fastly, Imgur gains unprecedented visibility into their site's performance. Fastly's real-time analytics and historical stats dashboards allow Imgur to watch their cache-hit ratio, requests per second, and error rate, monitoring their site performance in real time.
Alan Schaaf
Founder and CEO