The Beyoncé Drop (and other Super Bowl phenomena)
Last Sunday marked the 50th anniversary of one of America's most-watched sportsball events, with over 111.9 million viewers tuning in. Super Bowl 50 drew the third-largest group of viewers in its history. The Super Bowl is "unmatched in terms of reach" — a huge opportunity for advertisers to leverage an even larger audience, catering to entire families at a time while popular ads drive large spikes in visitors and continue to be shared on talk shows and social media after they've aired.
As a CDN, Fastly is in a unique position — we help companies handle the load of successful Super Bowl ads, and monitor the results in real time. We thought it might be interesting to share some of the traffic patterns we noticed during the big game.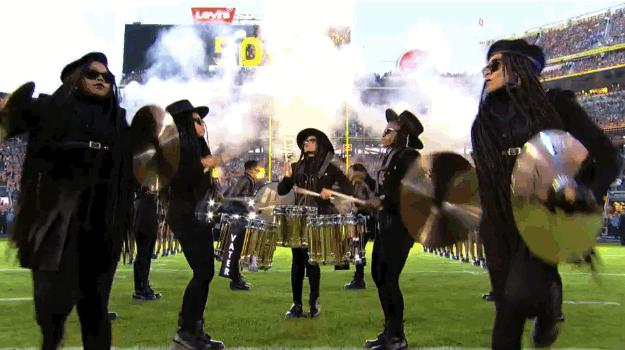 It's clear that viewers put down their phones and tablets to focus on the television at key points during the Super Bowl. In the graph below, you can see a 12% drop in traffic at kickoff (times are in UTC), and an additional 15% drop during the halftime show, which we at Fastly affectionately refer to as the "Beyoncé drop."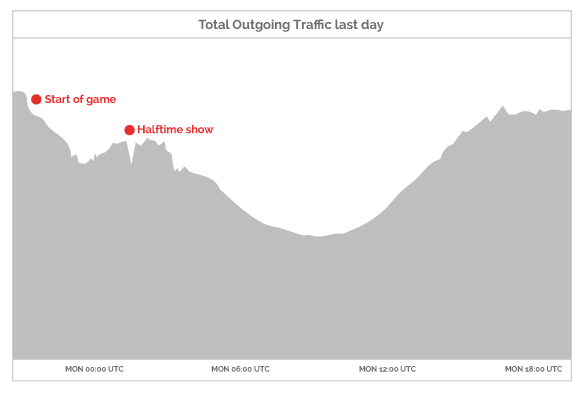 We keep a close eye on our customers' traffic levels, especially when they're planning major events (such as a Super Bowl ad) that will drive large quantities of visitors to their websites. While viewers may be focusing on the game, Super Bowl ads generate a flurry of online activity, resulting in large traffic increases.
With smartphones, viewers engaged by a particular ad can check out that brand immediately. Multi-tasking during the game is more prevalent than ever — in a pre-game survey, SOASTA revealed that 32% of Americans planned on using social media sites or apps during the game, with 21% planning to use sports sites or apps and 19% using news sites or apps. With phones in hand, Americans were ready to visit a compelling brand's website. And performance of those sites and apps is more important than ever, with two out of three fans stating that a badly performing site or app is even worse than watching their favorite team perform badly.
And while Super Bowl ads are known for being cleverer than run-of-the-mill commercials, there's more pressure than ever for invested brands to succeed. With the average ad spend during the big game at $5M for 30 seconds, it's important that brands not only execute the ad perfectly but can also ensure their site is prepared to handle a sudden influx in traffic.
On average, we saw a 74x increase in requests per second for our customers with ads, with a particularly popular ad causing a spike of 190x more requests per second than usual as visitors rushed to engage with the brand online. There have been various recent articles questioning the ROI on Super Bowl ads, but this instant activity boost shows that ads translate to online consumer engagement.
Prepping your infrastructure for major traffic events is critical to a campaign's success, and having a CDN is one key ingredient for ensuring your site is ready. We're proud to play this role in our customers' campaigns, and look forward to the next big event.