Impact of mobile internet disruption in Niger
On February 21, Nigerien residents went to the polls to vote in the second round of the country's presidential election. Published reports noted that this vote was expected to pave the way for the first democratic transition of power since Niger gained independence from France more than 60 years ago.
However, after the national independent electoral commission declared the ruling party candidate the winner on February 23, violent protests erupted in parts of the country, including the capital city of Niamey. In response, mobile internet services were shut down, leaving many citizens unable to reach the internet. Unfortunately, among African countries, restricting internet access has become a common response to political unrest — countries including Sudan, Ethiopia, and Mauritania have all taken similar action in the past. Below, we look at the impact of the internet service disruption in Niger from the perspective of Fastly platform traffic at a country, city, and network level.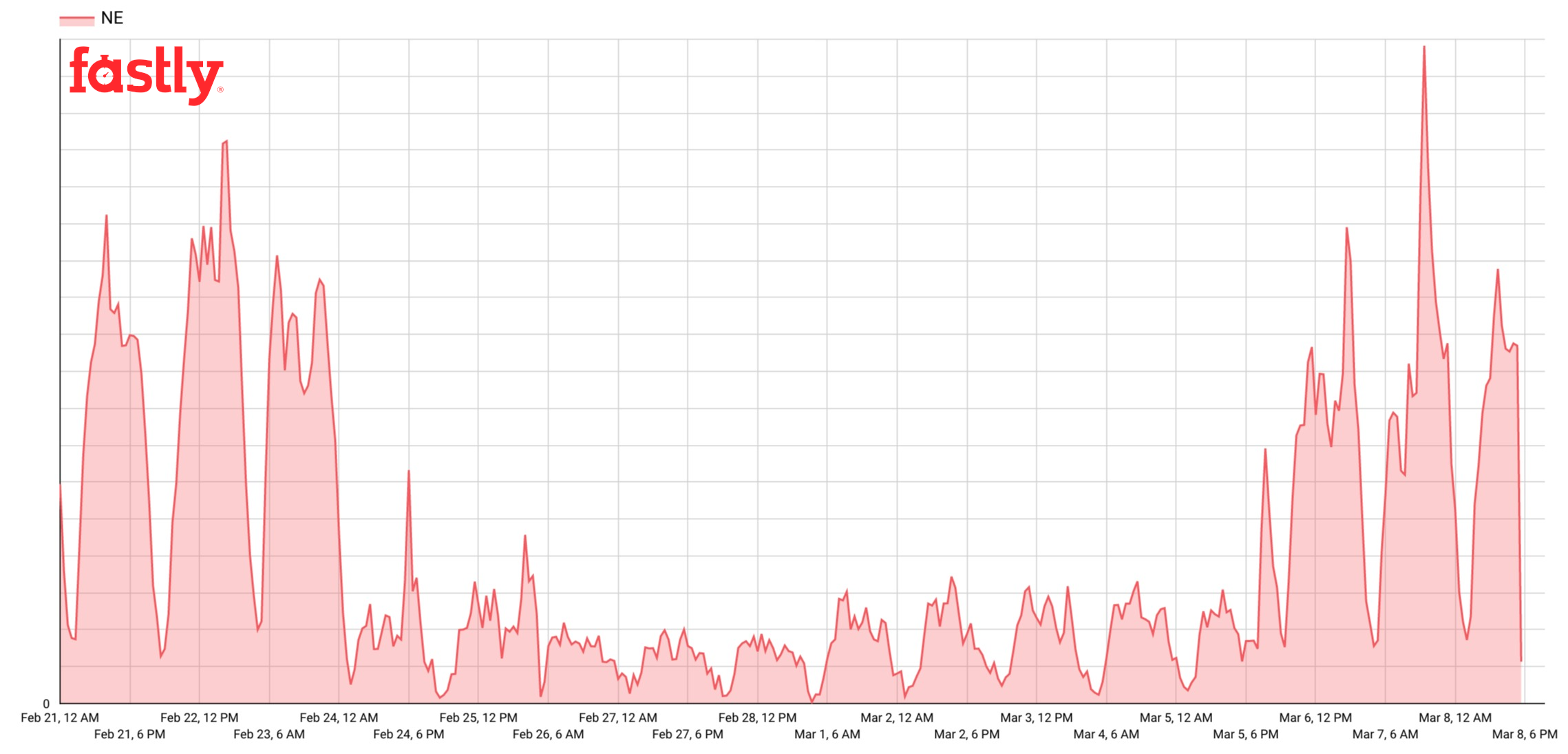 Fastly platform traffic to Niger, February 21 - March 8, 2021
The figure above illustrates Fastly platform traffic volume to Niger between February 21 and March 8, 2021. Post-election violence erupted across the country on February 23, with the restrictions to internet access being put into place the following day. This disruption is clearly visible in the graph, starting on February 24, with both traffic peaks and troughs on the order of 75% lower than in preceding days. This restricted connectivity remained in place for over a week, starting to return to more normal levels on March 5.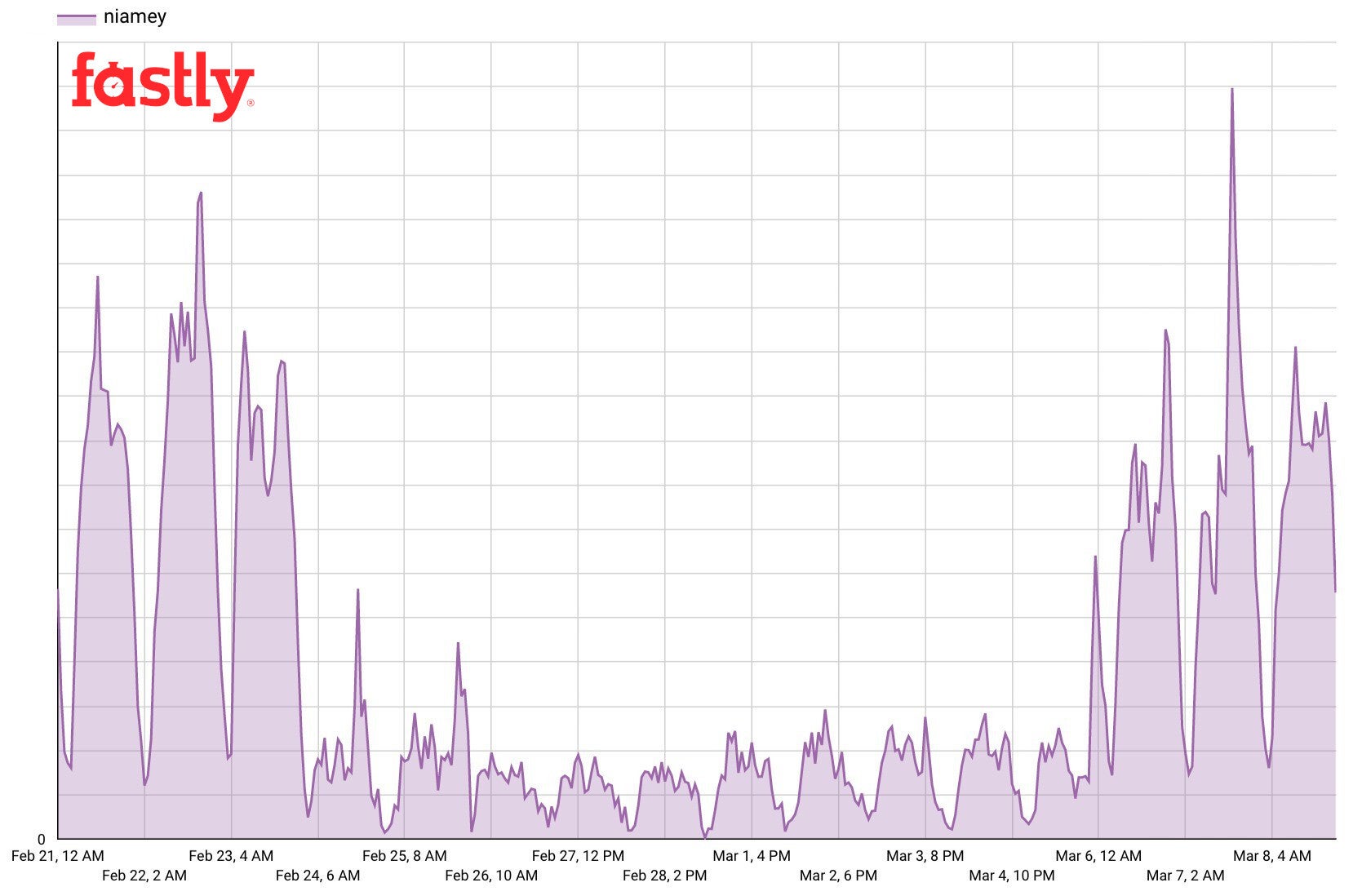 Fastly platform traffic to Niamey, Niger, February 21 - March 8, 2021
In the capital city of Niamey, the violence led to two people being killed and over 400 protestors detained, according to a published report. The figure above shows Fastly platform traffic to Niamey between February 21 and March 8, 2021. Average traffic volume to the city dropped by over 80% during the 10 day internet disruption.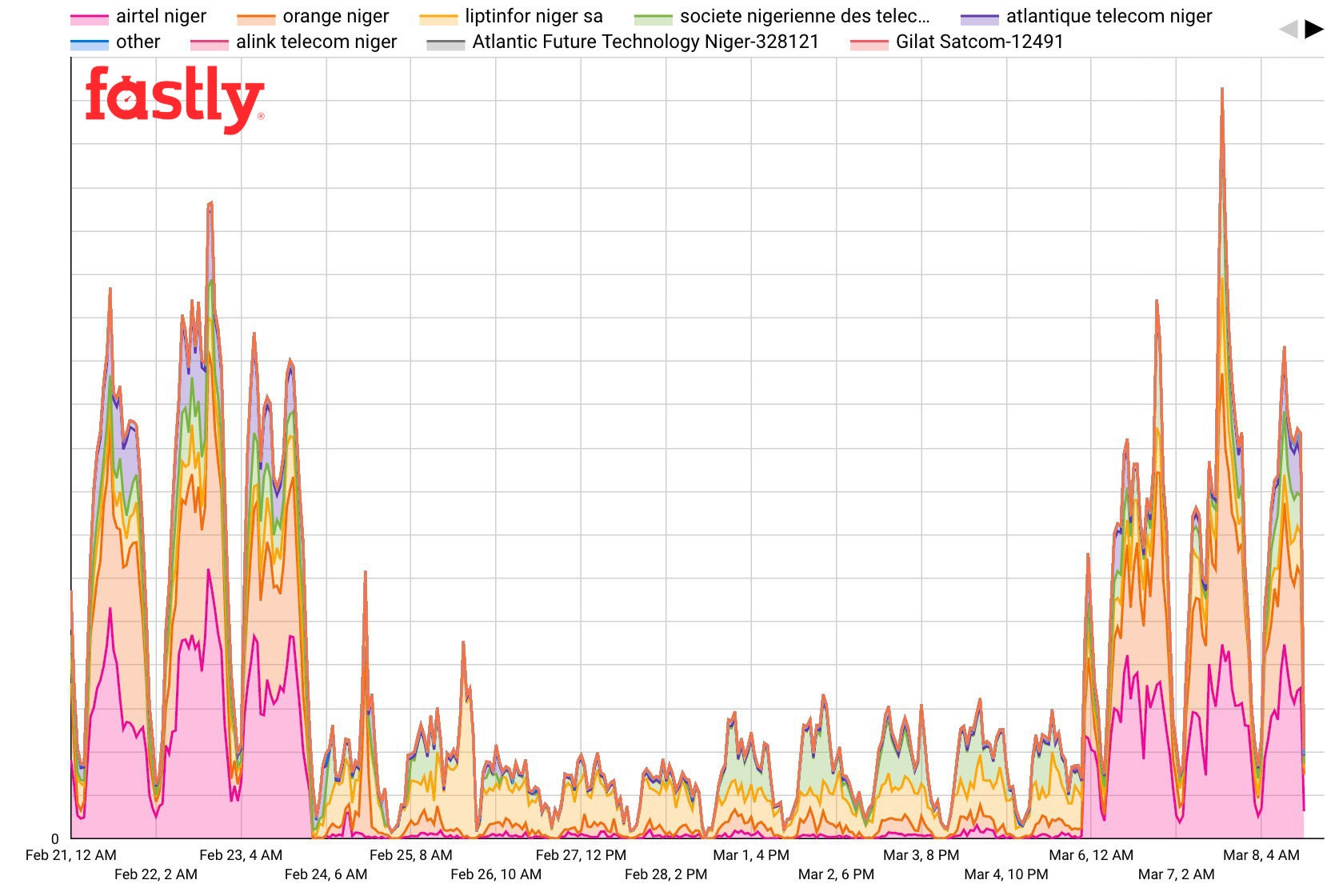 Fastly platform traffic to Niger by destination ASN, February 21 - March 8, 2021.
The significant drop in traffic was related to access restrictions at mobile internet providers in Niger, including Airtel Niger and Orange Niger (Zamani Telecom). As the figure above shows, the majority of the traffic delivered by Fastly to Niger is consumed by users on these two networks. When they went largely offline on February 24, a fraction of the traffic was picked up by other smaller providers, but most users were cut off from the internet until connectivity was restored on March 5. During the disruption period, the average traffic volume to Airtel Niger dropped by approximately 75%, and the average traffic volume to Orange Niger (Zamani Telecom) dropped by around 90%.
Conclusion
A recent blog post touched on how indispensable the internet has become during the COVID-19 pandemic. However, that reliance on the internet assumes that internet connectivity, whether mobile or fixed, is always available. Unfortunately, some countries have taken to disrupting internet access in response to political or social unrest, among other reasons. The impact of these actions is generally visible in Fastly platform traffic patterns for the affected country and network providers, similar to the graphs shown here. While we hope that such disruptions are infrequent, we plan to provide insight into their impact when they do occur.