Engagement disparity: the inauguration & Women's March
The rise of social media and real-time news updates have made politics and political coverage more accessible and interactive than ever before. The 2016 presidential election drove record levels of engagement online — from requests rising 6,500% above normal during the first debate to an 8,371% rise in visits to nytimes.com after the election results came in.
While there was an uptick in traffic to media sites during the 45th president's inauguration, it didn't compare to engagement during the election. This drop in engagement could be related to media fatigue after an emotional and surprising year, indicated by some Americans disengaging from social media as a form of protest, over 70 lawmakers boycotting the ceremony, and markedly fewer inauguration-day attendees at the National Mall as compared to 2009, with approximately 250,000 people coming out for Donald Trump on January 20, 2017, as compared to 1.8 million people for Barack Obama in 2009.
Traffic to news sites quickly leveled off after the inauguration speech, but we saw increased and sustained traffic to aclu.org, suggesting a transition from passive disengagement to action (and donations) leading up to the Women's March the following day.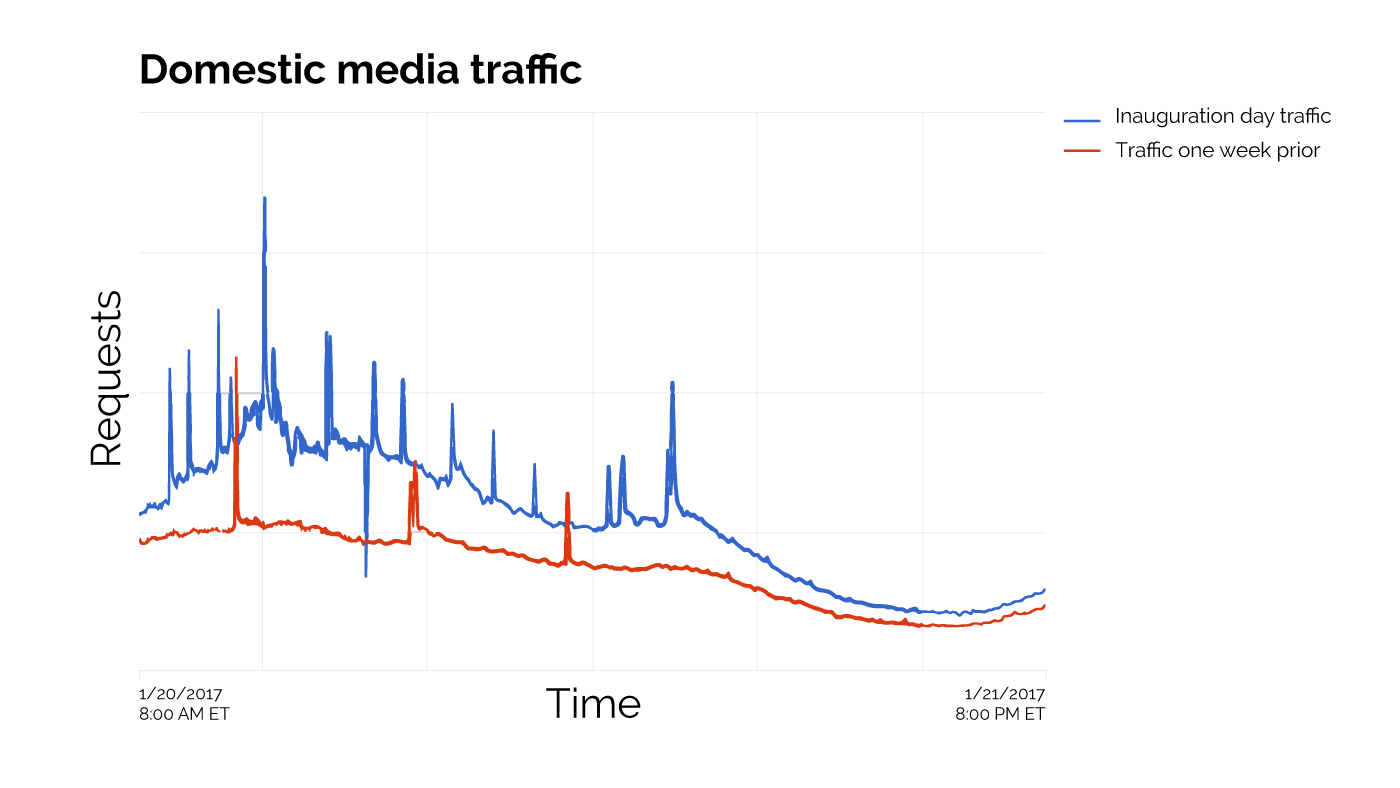 Here's a timeline of the traffic trends we saw on January 20, 2017:
10:55 AM ET a 76% increase in domestic media traffic as Trump and Obama left the White House, up 90% from the week before.

11:09 AM ET a 986% increase in visits to aclu.org after they announced their seven-point plan to take on the Trump administration and filed their first legal action against the president.

12:01 PM ET an 80% increase in domestic media sites after Trump was sworn in, up 232% from the week before. International media also saw an increase in engagement as the world tuned in — after Trump began his speech, traffic to international media sites went up 89%, 217% higher than the same time a week prior.

1:33 PM ET a 145% increase in traffic as media sites published transcripts of Trump's "American carnage" speech.

2:15 PM ET a 75% increase in traffic to domestic media sites as news of the protests came in.

5:30 PM ET traffic to media sites began to level off as the parade continued and readers signed off.
The Women's March took place the following day in cities all around the world. It was the largest inauguration-related demonstration in US history, with nearly 5 million protesters taking part. The Women's March in DC rallied three times more people than the inauguration — and we saw a corresponding uptick in online engagement; in contrast to the inauguration, which showed an initial increase in engagement that quickly leveled off, traffic levels during the Women's March remained high into the evening.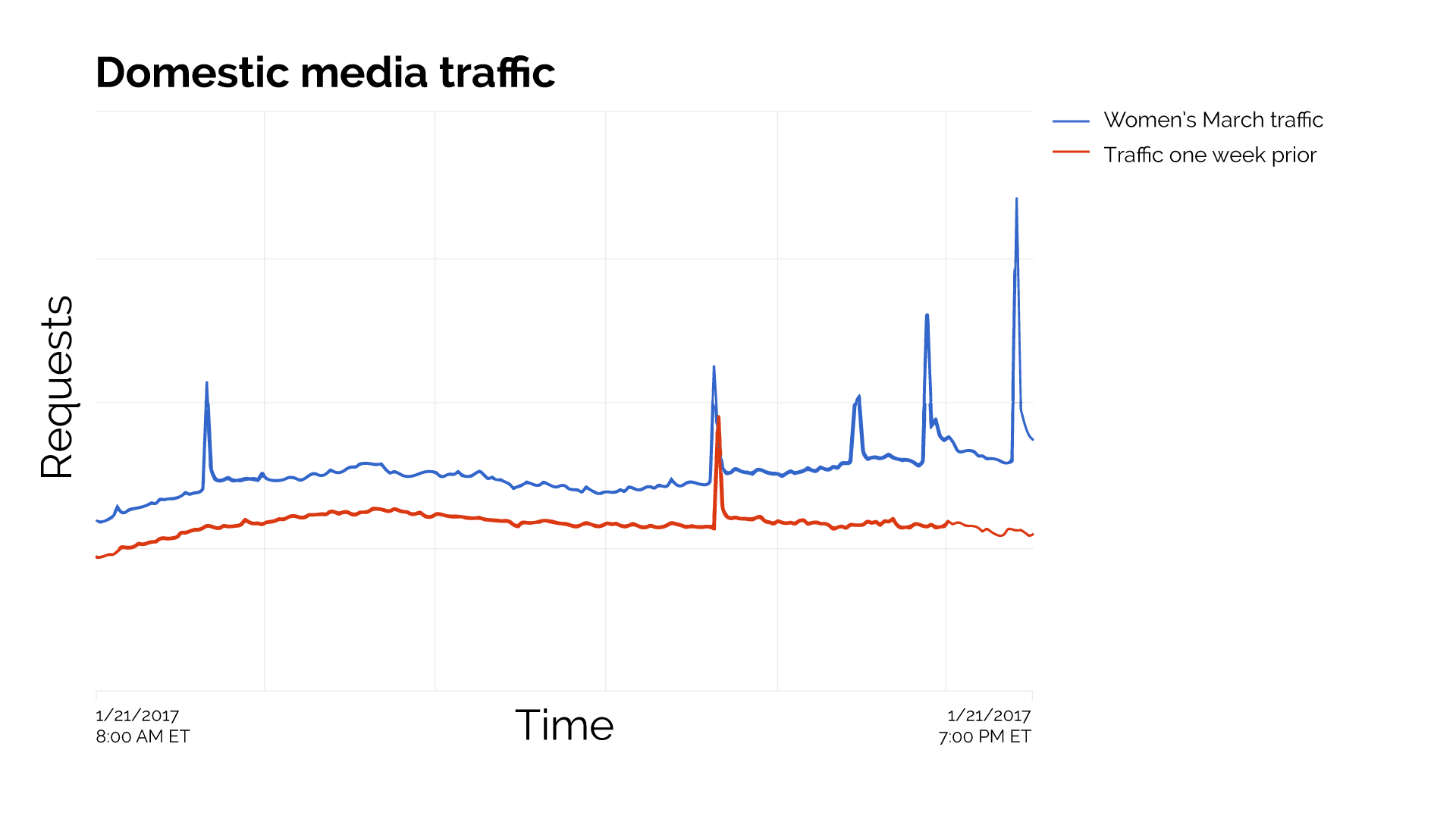 In addition to the Women's March, a few political news announcements influenced traffic trends on January 21, 2017 — here's a timeline of what we saw:
3:15 PM ET, a 100% increase in traffic to media sites as the Women's March in DC kicked off.

4:57 PM ET a bump of 76.6% to media sites as Trump made his first remarks to the CIA, failing to make note of the Memorial Wall behind him — to the dismay of CIA officials.

5:45 PM ET traffic was 129% higher as West Coast marches were in full swing, and Press Secretary Sean Spicer offered "alternative facts" describing inauguration-day crowds.

6:48 PM ET a 206.5% rise in traffic as marches continued well into the evening.
Check out our real-time insights, which we'll update with traffic trends as major events happen, and stay tuned — we'll continue to report on major moments of engagement into 2017 and beyond.