Make more informed decisions with Domain Inspector, now in beta
Manually gathering real-time and historical visibility into domain-level traffic can be complex, time consuming, and costly for businesses — but our new Domain Inspector, now available in beta, is changing all of that. We expose all the data you need without requiring you to build complex data pipelines, so you can focus on delivering value and optimizing your customer's experiences. 
Hot on the heels of our Origin Inspector release, Domain Inspector provides domain-level insights that help you analyze request traffic, observe error patterns, and identify performance issues to keep your websites and services running smoothly. 
We report data in 1-second time intervals, and historical views are retained for 45 days, sampled by the minute, hour, or day — so the data you need to make more informed decisions is at your fingertips. This is another way we're giving you the insights you need to make the decisions that will drive your businesses forward. 
Introducing Domain Inspector
Domain Inspector provides you with a dataset and visualizations that offer real-time visibility and historical reporting of domain-level metrics delivered by a Fastly service. It allows you to monitor requests, bandwidth, edge or origin response codes, and cache hit ratios for every fully qualified domain name (FQDN) configured on your service. And all of this is done without requiring you to send log data to a third-party data collector or monitoring service; you can now gather these critical domain insights directly through the Fastly API or console.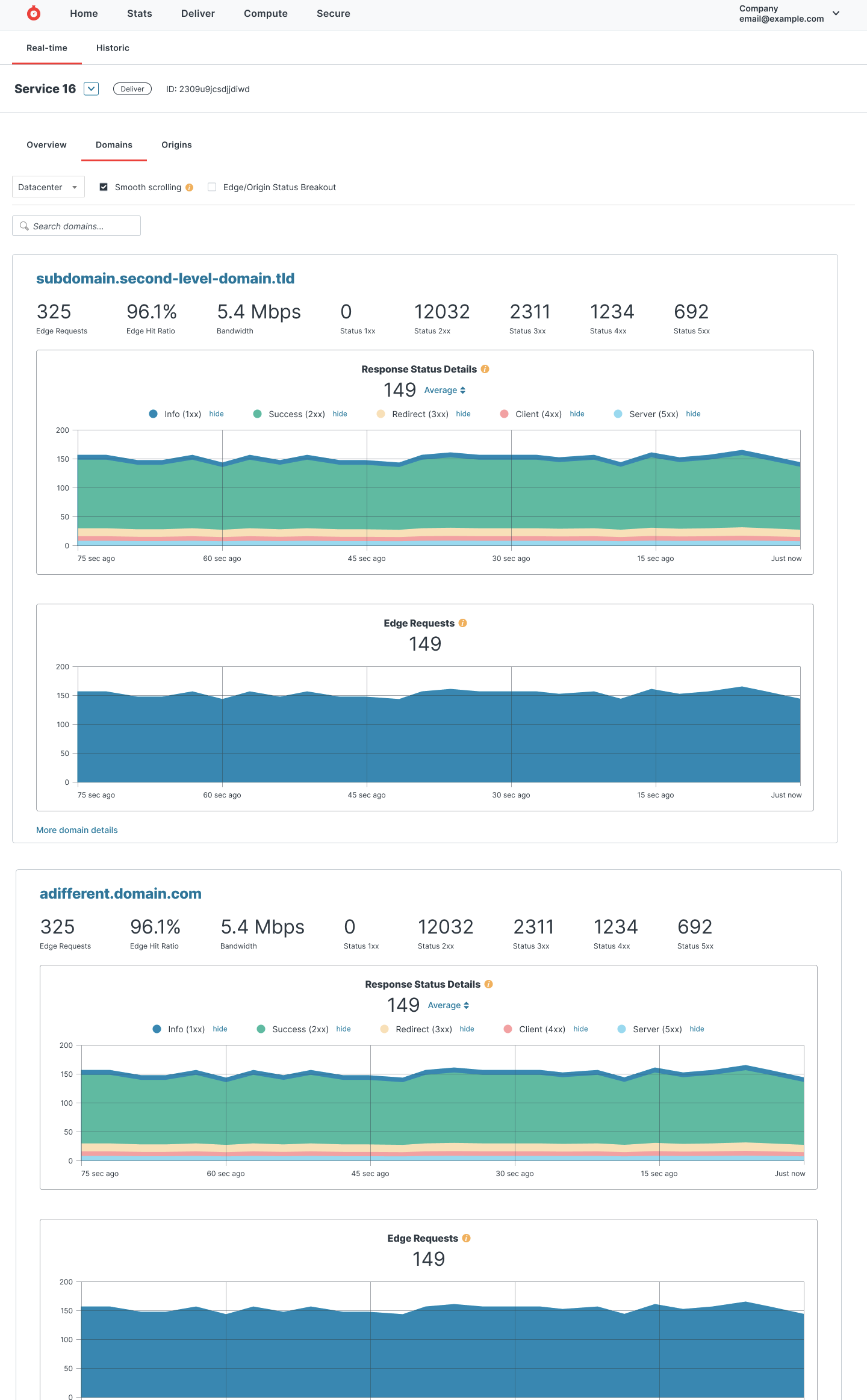 Observe all your domains in one view
Understanding your traffic behavior is critical when it comes to ensuring uptime and analyzing network patterns that can help inform improvements in service design and operation — letting you make more informed decisions that help accelerate business growth. We're committed to providing easy access to this data so you can build the best possible version of your experiences and focus on delivering value to your customers.
Here's how Domain Inspector helps your teams:
Software engineering: Monitor and report on domain-level data within the Fastly UI, freeing up engineer time and effort spent provisioning and configuring complex data pipelines.

Site reliability engineering: Avoid wasting time chasing down the right data. Pinpoint issues quickly with real-time and historical views into request, bandwidth, errors, status codes, and more, all collected by domain. 

Product: Gain traffic insights into website and application performance to drive future feature development and better user experiences. 

Finance: Understand the distribution of traffic across your different domain names to quantify your business decisions. 
The power is in your hands
Ready to give it a go? Sign up for the beta by contacting your account manager or reaching out to support@fastly.com.