Monitor origin traffic from the Fastly UI with Origin Inspector, now in limited availability
Understanding your origin behavior is critical to ensuring uptime and analyzing your traffic for patterns. Although you've been able to do this with log streaming on Fastly, the experience of extracting logs for origin-specific metrics falls on you to extract, transform, aggregate, group, and visualize. We wanted to make a way where you could get the critical insights you need directly in your Fastly user interface — and now you can.
Origin Inspector provides you with a dataset and visualizations that offer real-time and historical visibility into responses delivered from your origin servers to our edge cloud. And we're happy to say that it's now in limited availability.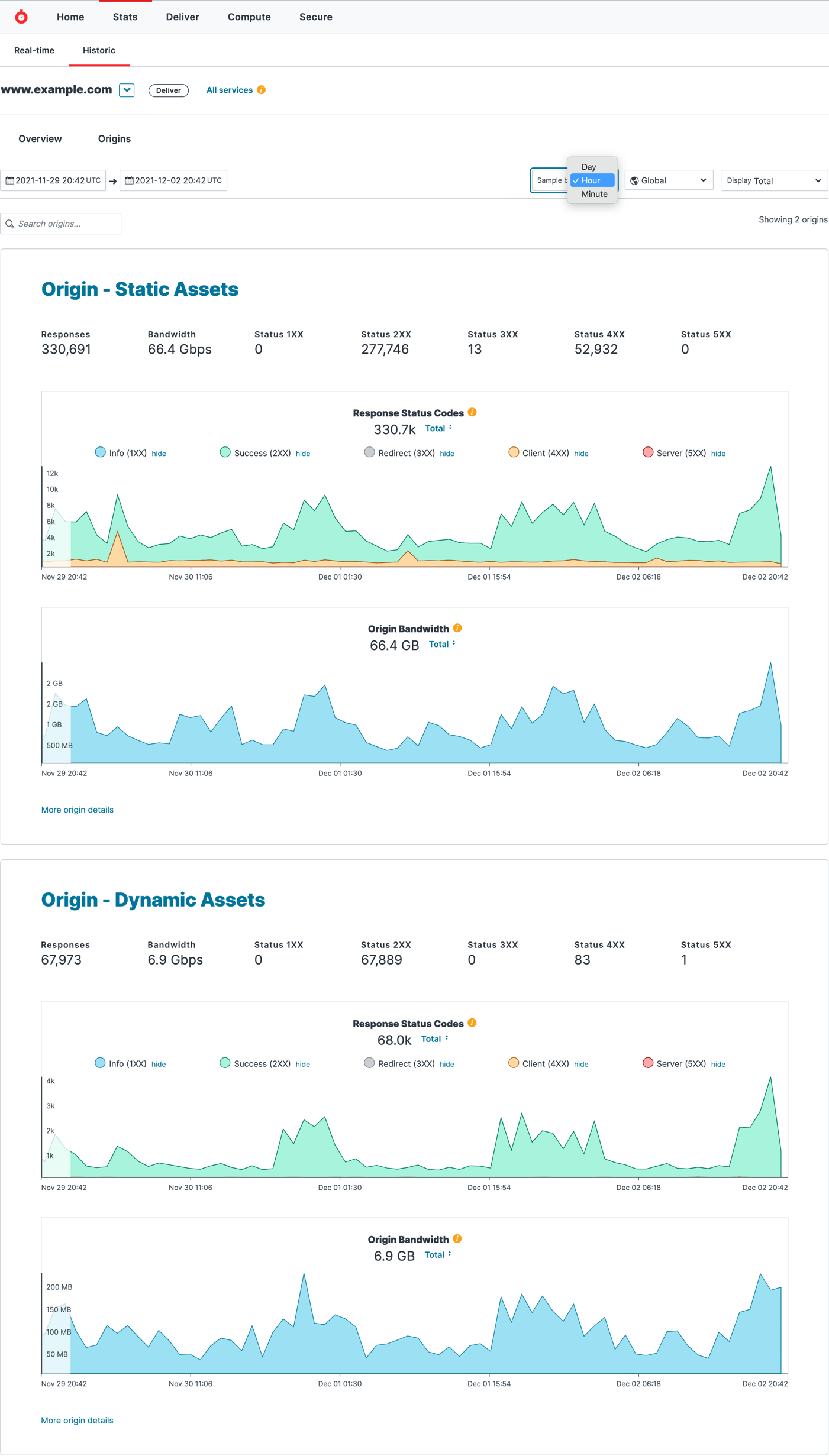 Observe all your origins in one view
With Origin Inspector, you can monitor origin traffic without sending log data to a third-party collector. Just how "real time" are we talking? Data is reported in 1-second intervals. Historical data aggregation and retention timeframes vary based on the package you've purchased. 
Now you can effortlessly monitor origin responses, byte, status code, and more without needing to send log data to a third-party data collector. You also get: 
Granular visibility: Get visibility of responses from your origin to edge so you can report and react in real-time to changes in origin behavior.

Simplified data pipelines: Monitor and report on egress data within the Fastly UI without needing to set up complex data pipelines.

Improve performance: Access both real-time and historical data to help you identify errors and improve origin performance.

Measurable ROI: Quantify origin infrastructure and egress cost savings to make more informed business decisions.

Effortlessly discover client and server errors occurring per origin
With this data, you can proactively monitor and react in a timely manner to issues that arise at the origin. You also gain an end-to-end picture of traffic to your origin, which is essential for monitoring quality of experience and troubleshooting, especially during flash sales or high profile live streaming events. All of this data gives you the ability to quantify the extent to which our services reduce origin infrastructure and egress costs, especially with shielding.

Pinpoint anomalies in origin behavior
To get started, you'll need to be a Fastly customer with one or more backends. Origin Inspector is also available as part of either our Essentials or Professional edge cloud packages. Turn on this feature by contacting your account manager or reaching out to sales@fastly.com.