We now support Log Streaming for Google Cloud Storage
We're pleased to announce we now support log streaming to Google Cloud Storage (GCS) endpoints. Google Cloud Storage lets users store their data "on the same infrastructure that allows Google to return billions of search results in milliseconds, serve 6 billion hours of YouTube video per month and provide storage for 425 million Gmail users*." Many of our customers use GCS as an alternative to other cloud-based storage solutions in the market — our GCS logging support offers them increased visibility into their infrastructure.
Fastly Log Streaming
Fastly's GCS support strengthens our existing Log Streaming capabilities for common endpoints like Syslog, Amazon S3, Logentries, OpenStack, Papertrail, and Sumo Logic. Unlike legacy CDNs, we give our customers complete visibility and the real-time data they need to make informed decisions about their business — no batched data uploads that arrive hours or days after the fact. We'll send you any information about requests to your site the instant you need it, from URLs and user agents to GeoIP, response size, and connection characteristics.
Setup
With Fastly, you can set up streaming log endpoints for GCS in just a few clicks.
Step 1: Make sure you've completed the GCS logging prerequisites.
Step 2: Once you're logged in to Fastly, click the "Configure" button and navigate to the "Logging" section.


Step 3: Find the Google Cloud Storage endpoints area and click "New."

Step 4: Input the required information (including bucket name, secret key, format string, etc.) and click "Create."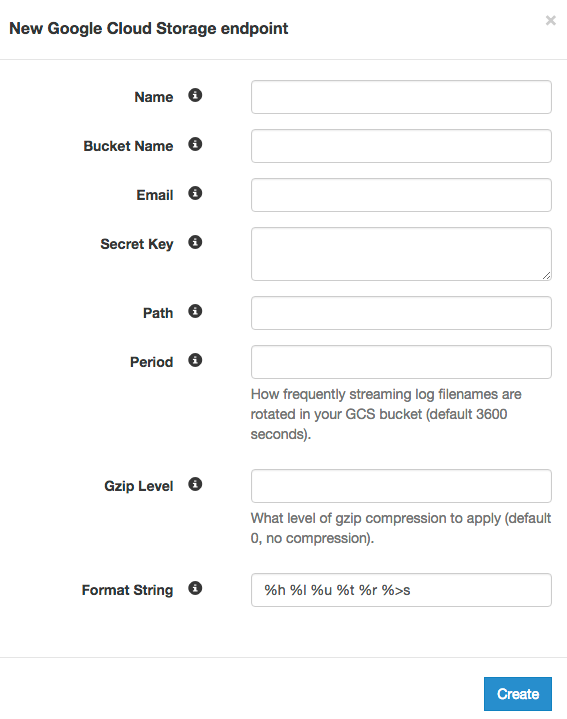 And you're done!
For more detailed instructions on how to get GCS log streaming set up in your own account, check out our documentation. And if you haven't already done so, I encourage you to sign up for a free Fastly account so you can try our GCS logging support for yourself.
---