Fastly Managed Security Service
Expertly managed web application protection
Security
Professional services
Stay ahead of web application threats with Fastly's most complete security coverage offering. Expert protection, 24/7 peace of mind.
Introduction

The Fastly Managed Security Service enables you to focus on your business by letting us operate and maintain your Fastly security products. Our global team of security experts continuously monitors for and proactively mitigates attacks for our Next-Gen WAF customers.
Keep your applications and APIs fully protected while freeing up your in-house teams to focus on core competencies, strategic initiatives, and high-impact projects that grow your user base and keep them safe.
Key Benefits
Ensure web application protection and availability

Gain rapid incident response

Control costs while reducing risk
Service Overview

The Fastly Managed Security Service is a full-service offering for our Next-Gen WAF, DDOS, and Edge Rate Limiting customers who require comprehensive monitoring over their environments. This service allows you to focus on your strategic initiatives and high-impact projects while entrusting security performance and maintenance to Fastly. 
Fastly Managed Security Service customers work alongside our expert security team resulting in a unified and highly-collaborative experience. Our team includes our Customer Security Operations Center (CSOC) for continuous monitoring and incident response for our Next-Gen WAF customers and our Security Research Team for threat intelligence, adversary emulation, and research reports, along with access to a Designated Security Specialist for regular reporting and strategic consultation. 
Fastly's security portfolio and supporting teams provide high confidence to customers who require fast, accurate, and collaborative protection.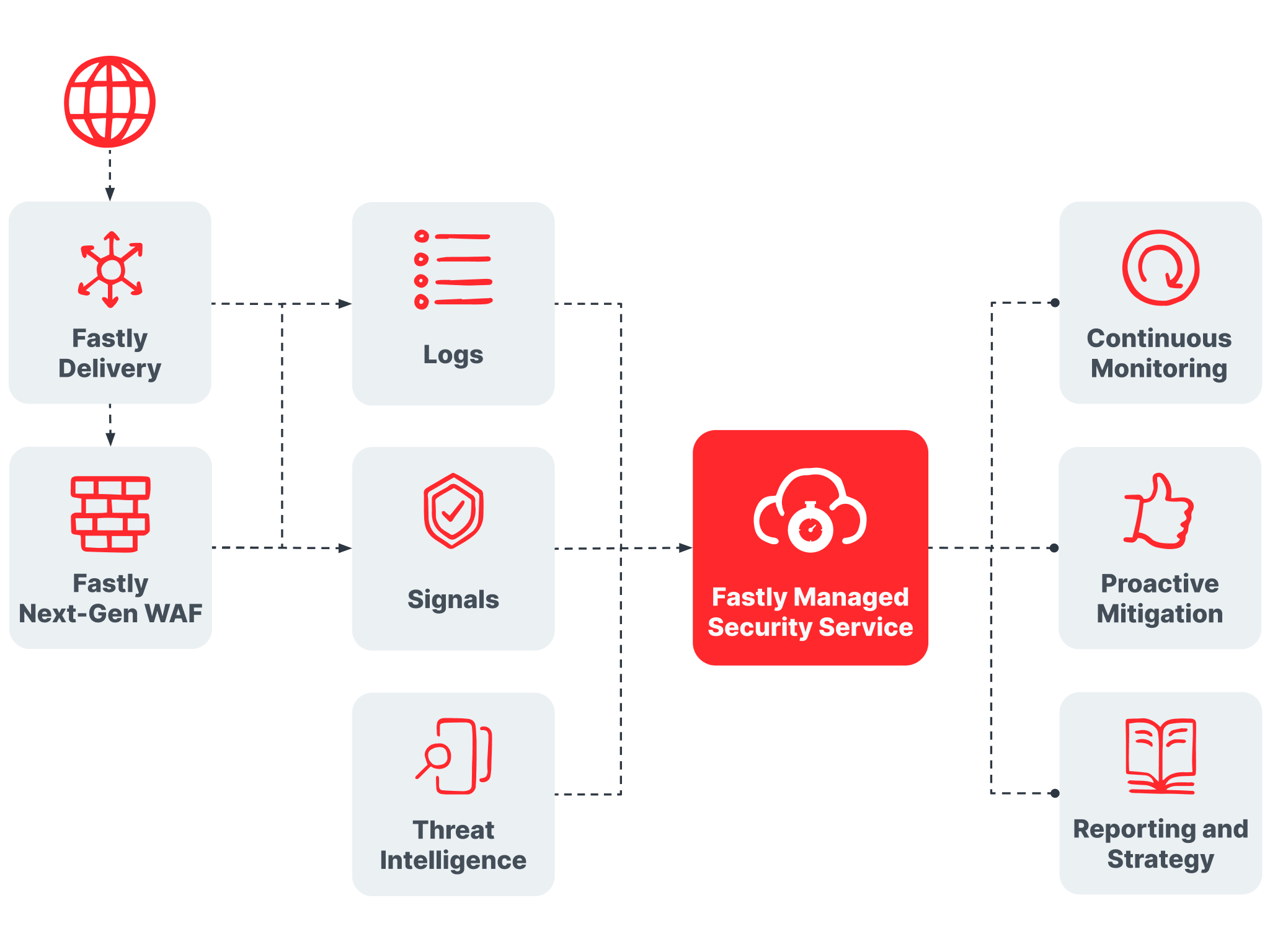 The Fastly Managed Security Service monitors multiple sources of security intelligence and metrics, ensuring you're always protected.
Key Features
The Fastly Managed Security Service builds on our existing professional management services and security monitoring services, providing you with the widest breadth of advanced coverage and collaboration opportunities. 
Our offering includes: 
24/7 proactive monitoring and mitigation with threat hunting: our CSOC team will continuously monitor your web applications for security threats and DDoS events, and, when necessary and authorized, take proactive action to mitigate

Post-event reports: we will provide reports for security incidents documenting what we observed and the actions that were taken

Security reports and reviews: once a month, we'll send you a report documenting observed events and actions taken, recommendations for configuration changes, results of threat hunting, threat intelligence updates, and product updates

Readiness drills: we'll partner with you to execute readiness drills simulating multiple phases of a security event
Plus, you'll receive all the features of our Response Security Service, including
24/7 attack support backed by a 15-minute response SLA for critical security incidents

A direct phone line and dedicated security chat channel 

Configuration assistance 

Access to a designated security specialist
| | Response Security Service | Managed Security Service |
| --- | --- | --- |
| 24/7/365 attack support, 15-min response SLA | | |
| Direct security phone line and chat channel | | |
| Configuration assistance  | | |
| Access to a designated security specialist | | |
| 24/7/365 proactive monitoring w/threat hunting | | |
| Post-event reports | | |
| Monthly security reports and reviews | | |
| Readiness drills | | |
Your Partner in Security 
The Fastly Managed Security Service is staffed by Fastly's globally distributed CSOC team, our team of security experts dedicated to monitoring, threat hunting, and providing strategic consultations for Fastly's security portfolio. 
Our position as a global edge cloud platform leader and application security provider means our team works with some of the most prominent online organizations that value speed and uptime. The Fastly CSOC team has overseen and protected major sporting events, retail sales, and breaking news incidents alongside our customers around the world, ensuring that customers provide their end-users with an amazing user experience during high-risk situations. 
Additionally, our Security Research Team generates reports on attack trends and security incidents and provides consulting services for attack emulation and anomalous traffic review. 
Why Fastly Does it Better
We know you have a range of choices regarding managed security services for web application protection. Where we excel is in our:
Technology: Compared to legacy providers, Fastly's powerful and modern network architecture is the fastest on the planet, empowering developers to deliver secure websites and apps at a global scale with rapid time-to-market and industry-leading cost savings.

Efficiency: our SmartParse technology doesn't rely on manual tuning of complicated parsing rules, which allows us to detect and block faster, with virtually no false positives.

Expertise: We protect some of the largest sites on the web, and our exceptional support for large and small customers is recognized year after year. Customers have made us a Gartner Peer Insights Customers' Choice for Web Application and API Protection for five consecutive years.

What does this mean for your business as a Fastly Managed Security Service customer? You can expect the highest level of support and expertise from our team. By working on modern, scalable, and efficient technologies, our CSOC spends less time triaging false positives and tuning rules and instead can provide deeper security insights and more thorough threat hunting. Not to mention your apps load faster, your WAF decisioning is faster, and your team can focus on delivering the best experiences for your customers.
Related resources
Fastly Security Professional Services
Learn how our team of application security experts are here to help every step of the way.
Fastly Security Research Team
Explore our latest research and learn more about our approach and focus areas.
Web Application and API Protection
Learn what sets our Next-Gen WAF apart from legacy solutions.
Meet a more powerful global network.
Our network is all about greater efficiency. With our strategically placed points of presence (POPs), you can scale on-demand and deliver seamlessly during major events and traffic spikes. Get the peace of mind that comes with truly reliable performance — wherever users may be browsing, watching, shopping, or doing business.
277 Tbps
Edge network capacity1
150 ms
Mean purge time2
>1.4 trillion
Daily requests served4
~90% of customers
Run Next-Gen WAF in blocking mode3
➀As of June 30, 2023
➁As of December 31, 2019
➂As of March 31, 2021
➃As of January 1, 2022