Announcing our newest POP in Christchurch, New Zealand
We're excited to announce our new point of presence (POP) in Christchurch, New Zealand, allowing us to offer Kiwi government agencies as well as businesses, from budding startups to global multi-nationals, greater resilience, higher network availability, and extended failover services. With the addition of this POP, we continue to build on our strategic approach of deploying fewer, more powerful POPs in well-connected locations around the world to increase capacity, decrease latency, and improve performance for end users.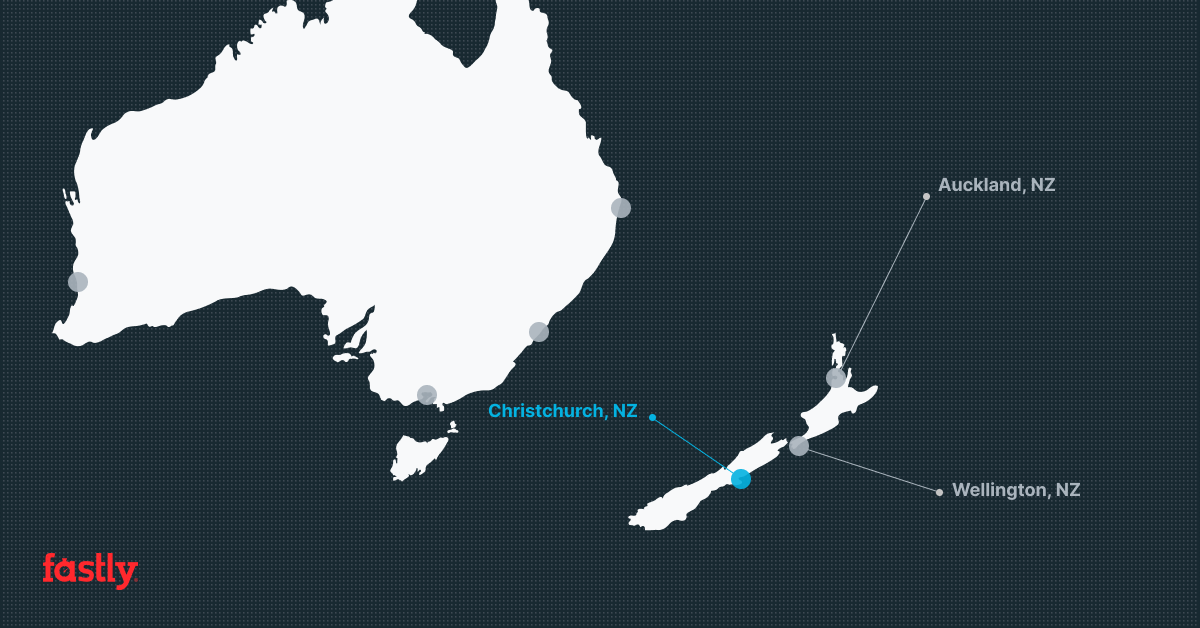 Bringing fast, scalable, and secure digital experiences to end users
The new facility on the south island of the country improves the speed and security for users accessing some of the world's largest websites powered by Fastly, using solutions like the Fastly Next-Gen WAF built on Compute@Edge. The Fastly Next-Gen WAF provides customers with security everywhere and prevents malicious activities from impacting their services.
At the same time, customers receive the speed, scale, and stability of our edge cloud network to fuel their digital experiences and support modern, dynamic applications. Another key benefit is that the Christchurch POP delivers a faster experience for New Zealand customers, and protects services in the event of outages elsewhere in the earthquake-prone country. For users in Queenstown and Dunedin, TLS sessions will be terminated closer to them, dramatically reducing the latency for time to first byte. This will improve streaming media delivery, as well as the speed of ecommerce websites and the country's most popular websites, including Trade Me and Stuff.
How we choose POP locations and build our global network
We've taken a unique approach to building our robust global network and the powerful software that runs on top of it. With fewer, more performant POPs placed strategically across 71 worldwide locations (as of Dec. 31, 2021), including four sites in Australia and now three in New Zealand, our network requires less hardware than legacy CDN providers to deliver fast, secure, and resilient digital experiences for users around the globe.
We use 100 Gigabit optics when connecting POPs to the internet, which helps deliver innovative web apps, APIs, and websites with low latency. Built into every POP is Precision Path, which automatically detects and routes around transient connection problems that occur when fetching content from origin servers or when delivering content to end users from our edge cloud network. 
Each POP also has its own set of redundant switches and rack componentry to provide customers with greater redundancy and flexibility. Our POPs are also built to be internally resilient with multiple levels of failover within the rack. Our commitment to solid-state drives in all cache nodes further enhances speed and resilience.
Our commitment to growth
The new infrastructure in Christchurch joins our POPs in Australia and New Zealand across Sydney, Melbourne, Brisbane, Auckland, and Wellington, all of which are hosted in carrier-neutral data centers. This latest expansion into Christchurch allows our customers across the region, including New Zealand, Australia, and Fiji, to minimize the possibility of failure by spanning resources across two separate availability zones, or even across multiple regions. 
As users continue to demand increasingly dynamic and performant digital experiences, we're thrilled to continue growing our network to help meet those expectations.