Fastly's Live Event Services help power Australia's Lexus Melbourne Cup on 10 Play
We recently announced two solutions that support the massive growth of live streaming and video on demand as the world takes to the screen in 2020. Today, let's look at an example of Live Event Services in action with one of Australia's biggest events, the Lexus Melbourne Cup, held 3 November 2020.
The Lexus Melbourne Cup is an annual 3,200-metre horse race that's been held in Melbourne, Australia, since 1861. This year, Fastly played a part in bringing Network 10's live and free coverage of the event to more than 2 million Australians.
Our role in the race
The race only lasts about 3.5 minutes — but that's an important 210 seconds! Our servers were able to handle the impact of hundreds of thousands of Australians live streaming the main event without a hitch. 
This included providing edge delivery services and increased capacity, as well as Live Event Monitoring, which provides customers with our own Mission Control team. The team brings their specific insight into what's happening around the global internet to identify issues specific to an event's traffic or the internet as a whole.
"Network 10 has been a Fastly customer for some time, which has included providing services for 10 Play. It made sense to include Fastly for the live streaming Spring Carnival events, especially with more users watching online than ever before," Liz Baldwin, General Manager of Digital at Network 10, told us. "To deliver 10 Play's strong growth trajectory, we plan on continuing the key partnership with Fastly who helps achieve the seamless, optimal user experience."
What we saw during the race
With 683,000 live streams on 10 Play, this year saw the largest crowd ever to live stream the Lexus Melbourne Cup, up 47% from 2019. Here's what we saw across Network 10 properties and the internet as a whole on race day: 
Network 10 saw a whopping 1,400% increase in peak bandwidth on Lexus Melbourne Cup Day, as compared to their average from the previous seven days.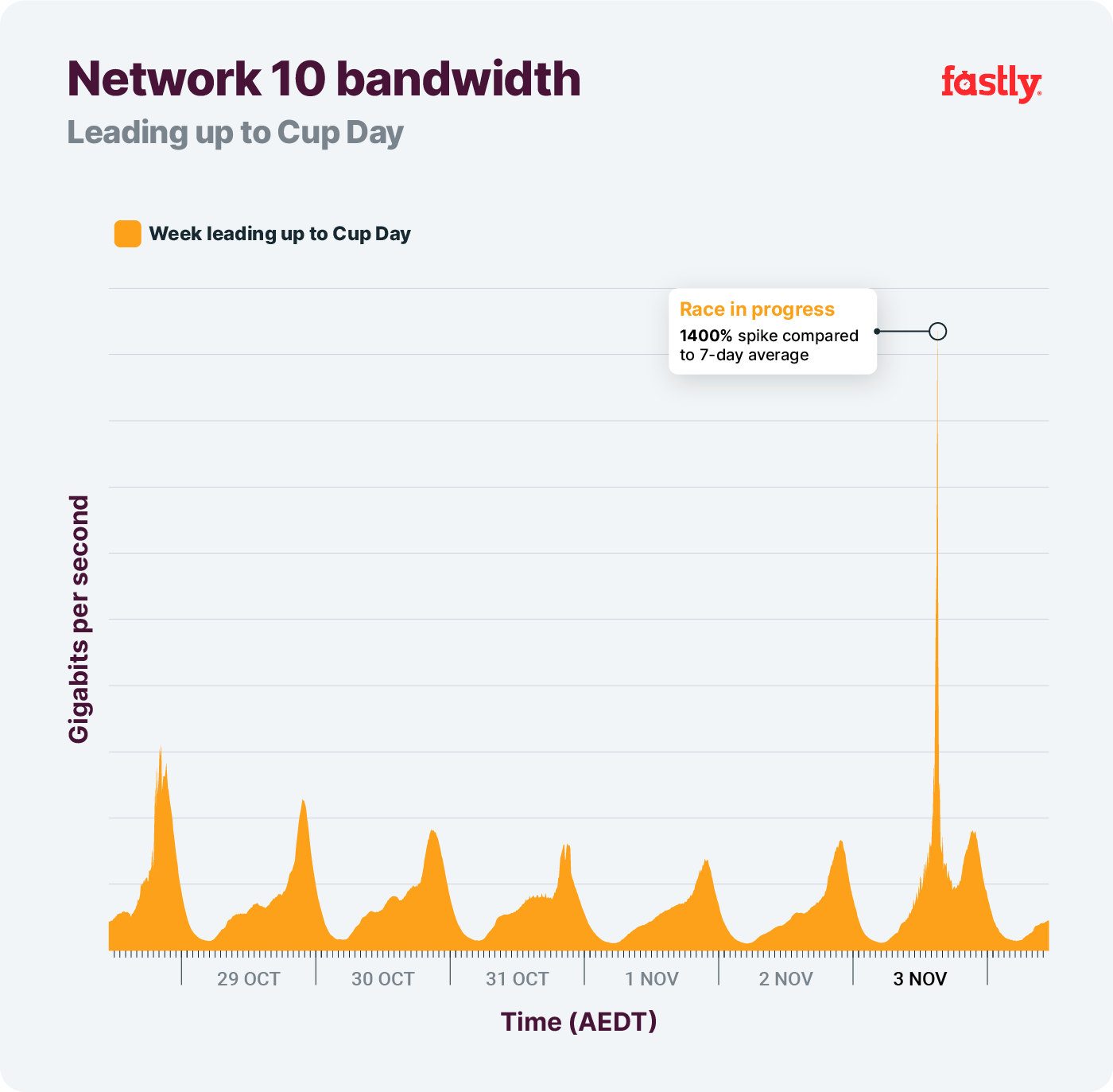 Network 10's peak bandwidth on the day was 214% higher than their peak seen over the previous seven days.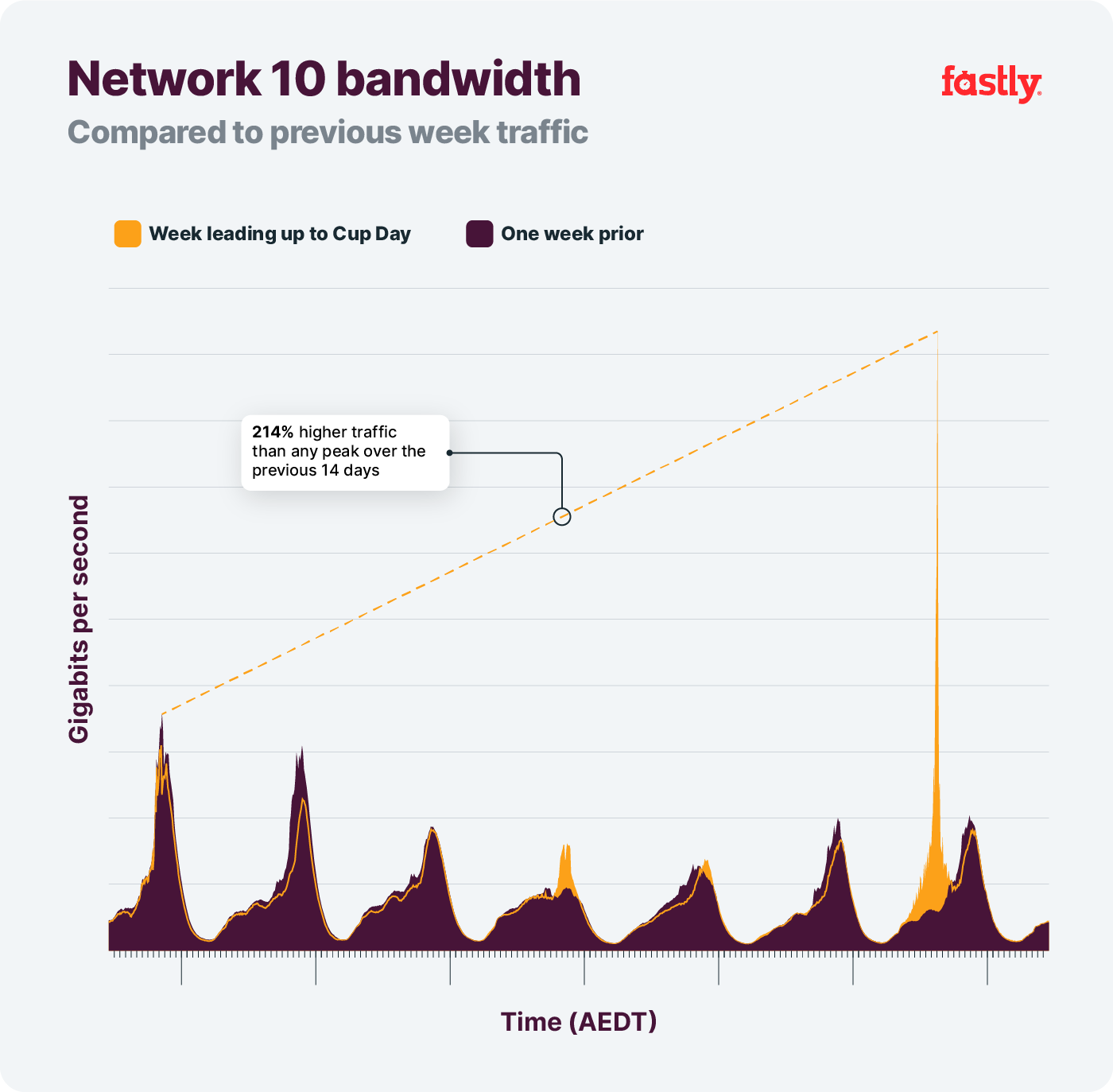 When it came to viewing the streams, the top platforms included Windows 10, telstraTV, Mac OSX, Apple TV, and iOS. 

It wasn't only Network 10's traffic that saw an impact though. As the race kicked off at 3 p.m. AEDT, we observed a brief drop in local traffic across selected ecommerce and social media customers. Clearly browsing and posting came to a halt for the big event.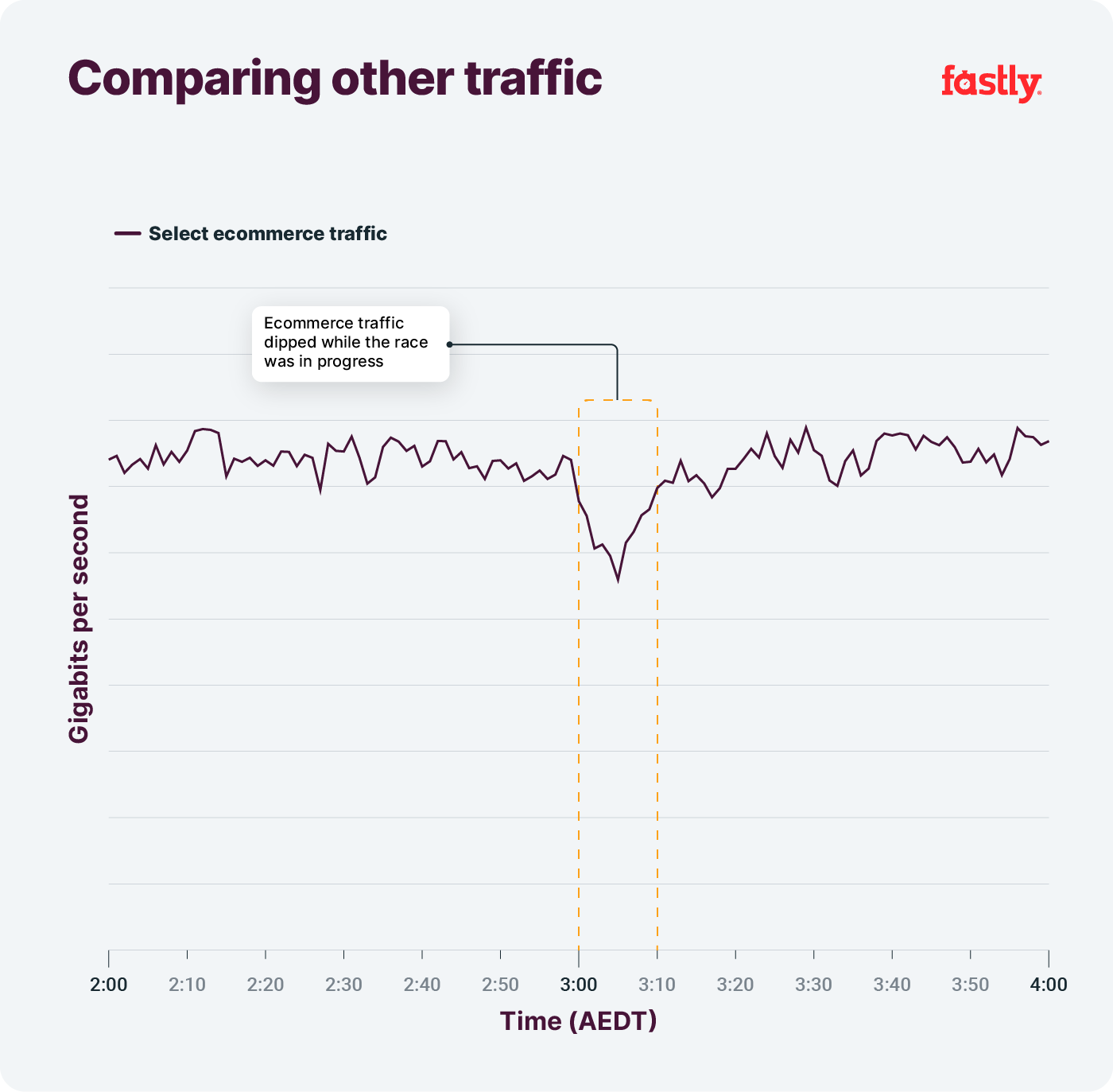 What's next
Globally, live streaming is up 99% in 2020, according to StreamElements and Arsenal.gg; and the number of people streaming video-on-demand is projected to be up by nearly 50 million at the end of this year, according to Statista. As more media and video companies move into the live and on-demand space, we'll be here to support their efforts — and watch the traffic.