How Fastly and Fauna are helping Climatiq enable data-driven climate decisions using distributed and serverless technologies
We recently announced our growing ecosystem of Compute@Edge partners who are tapping into our powerful edge cloud network and using Compute@Edge to bring their solutions even closer to customers. We're thrilled to count Fauna, a globally distributed database, among those partners helping us push the boundaries of what's possible at the edge. This blog highlights how Climatiq, a Berlin-based startup providing embedded carbon intelligence, paired Compute@Edge with Fauna to meet their goals and deliver a better user experience. 
Climatiq's mission to drive climate action through data and insight is as ambitious as it is straightforward. The need for widespread climate action is apparent. Yet, to make sure our actions are well-informed and build on reliable, measurable data, we need to significantly increase transparency — transparency into greenhouse gas emissions data, corporate impact reporting, and whether decarbonization is moving fast enough.
Climatiq strives to solve this challenge by combining scientifically vetted, open data with a versatile API that can be embedded in any software a company uses. Climatiq's rationale is simple: Every organization has their own specific setup, a slate of applications and services they use, and activities they pursue to succeed. The data that lets them track and understand how they are performing from a climate perspective is generally tied to these earlier software choices, such as accounting, cloud services, project management, travel bookings, or office supplies. All of these systems provide the activity data needed to calculate an organization's greenhouse gas emissions. Activity data represents actions we take on a daily basis, such as taking the train from Paris to Berlin, spending $1,000 on soft drinks, or staying a night at a hotel.
While Climatiq's own product is helping other organizations make data-driven climate decisions, Climatiq has kept climate efficiency in mind while creating their own technical architecture. To achieve this, they chose Fauna as their database and Fastly's Compute@Edge for their compute layer because of their distributed and serverless architectures.
Why distributed and serverless?
Climatiq created its architecture with three goals in mind, in priority order: low emissions, low global latency, and short time to market. To ensure they meet these goals, they rely on distributed by default and serverless technologies.
Distributed
Having distributed infrastructure ensures that requests to the Climatiq API are returned from the closest possible compute or database nodes, keeping global latency low, and reducing emissions caused by network traffic reaching distant servers. To do this Climatiq chose to use Fastly's Compute@Edge platform because it supports Rust and WebAssembly, enabling them to write extremely efficient and scalable software. They quickly realized that to truly keep latency low, it wasn't enough for only their compute nodes to be distributed, they also needed their databases to be as close as possible to their compute nodes to reduce network traffic. This is why Climatiq chose Fauna, a serverless database with globally distributed architecture that allowed them to securely store sensitive climate data while maintaining low latency and emissions.
Serverless
Climatiq chose serverless technologies to keep emissions low while improving their time to market. Serverless technologies ensure low emissions because Climatiq can scale their infrastructure to zero when there's no traffic to their API, avoiding emissions created by underutilized or idle servers. Climatiq was also able to release their beta product to market quickly by focusing on building their core API instead of dealing with server administration. This was another reason Fastly's Compute@Edge platform and Fauna's serverless database were a perfect fit for Climatiq. Fauna's database not only kept emissions low, but also accelerated Climatiq's time to market because they could focus on building functionality for their application instead of dealing with the administrative overhead of spinning up, scaling, and patching infrastructure that is generally associated with databases. 
"Adopting Fauna and Compute@Edge early on has been instrumental in our ability to test and release features quickly. It allows us to maintain our data logic in a single place, and provides enough flexibility to adapt to different requirements across our application." – Isis T. Baulig, CTO, Climatiq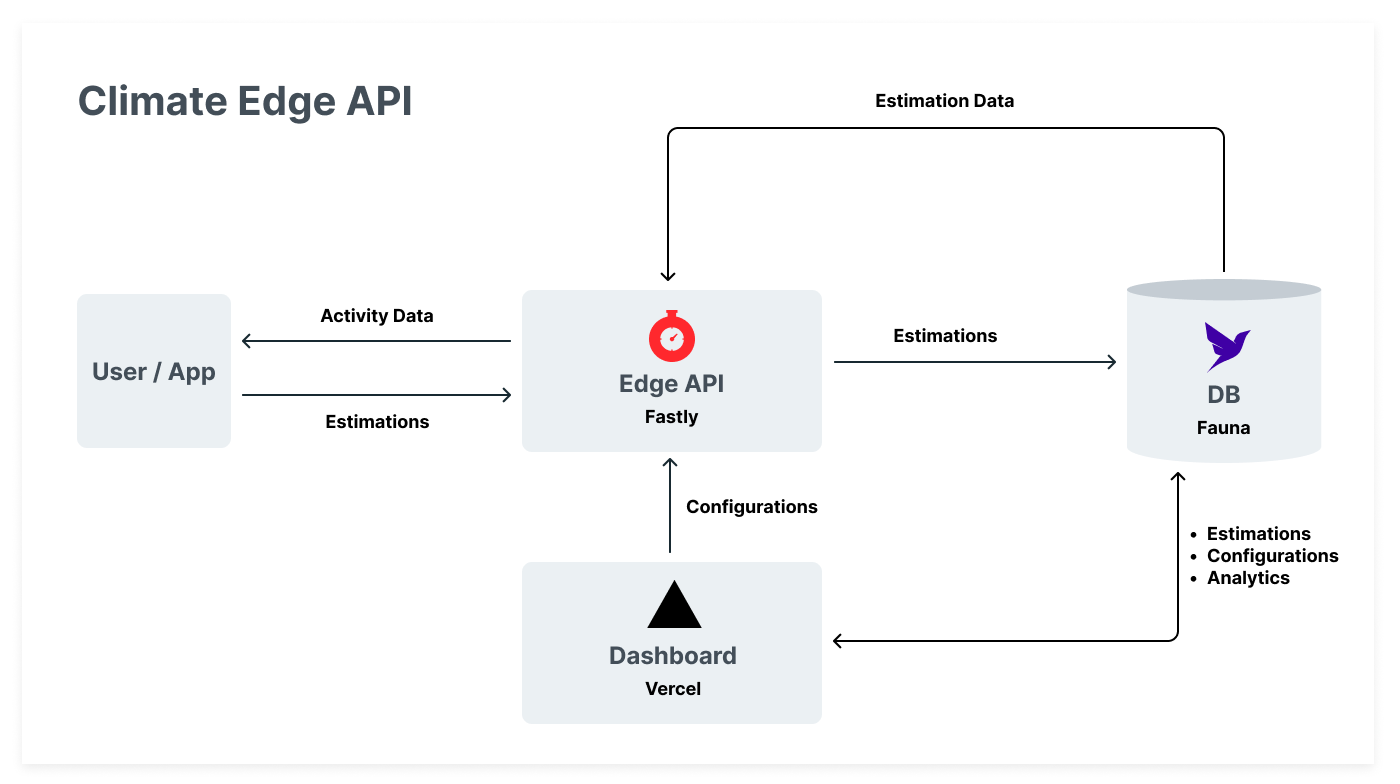 Climatiq, Fauna, and Compute@Edge
Climatiq is on a mission to provide transparency around climate data. Pairing Fauna's globally distributed database and Fastly's Compute@Edge platform has enabled Climatiq to not only achieve climate efficiency with their own architectures, but to also accelerate their ability to get their API in the hands of users. As Climatiq marches toward launching their product in general availability, leveraging serverless architecture for both their database and compute layers gives them confidence that it will scale with their growth.
"We are inspired by companies like Climatiq who are building innovative applications to address important global challenges. Fauna removes the operational overhead that developers associate with databases and helps them build applications quickly. Our partnership with Fastly and integration with C@E makes it easier for developers to build powerful, highly personalized, low latency applications at the edge." – Nishant Agarwal, Head of Business Development, Fauna