Introducing the Redesigned Fastly Status Page
Overview
We're excited to announce today that the Fastly status page is unveiling a new design and vastly enhanced functionality!
Back Up: What's the Status Page?
To ensure highest security and best performance for our customers, Fastly continuously monitors the status of our global network and all related services. In the event of scheduled maintenance or an unplanned performance impact, an update is posted on the Fastly status page: www.fastlystatus.com.  
What has Changed?
Our previous status page design has served Fastly and our customers well. However, as we continue to add more products, services, and partners to the Fastly, Inc. ecosystem, we have been rethinking the user experience for the status page and validated that with customers that led to significant changes we are rolling out.
The update to Fastly's status page includes the following improvements:
The Fastly status page now includes information on the products and services from our Signal Sciences and Fanout business acquisitions.


The status of Fastly data centers and services are now separated into our product categories: Network Services, Security, Compute, and Observability.

Service subscription options have been improved to provide customers with various options for notification preferences: by service, region and level of impact.
And don't worry – we've carried over our full incident history from all legacy status pages. You'll have the full picture at your fingertips, in a format that's easier to use and more customizable than ever before.
A Closer Look 
When we set out to redesign the status page, we took into account all the changes we've recently undergone as a company, as well as the needs and expectations of our valued customers.
First, the new status page encompasses all of Fastly's products and services, including Signal Sciences and Fanout.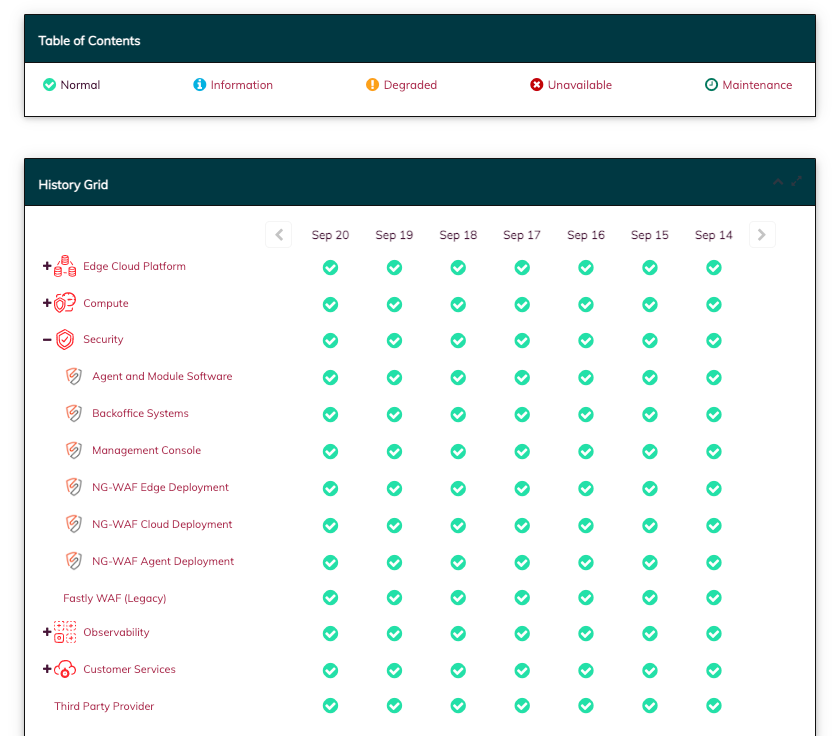 Next, the page has been redesigned to give you the information you need most, empowering you to act more quickly than ever before. The redesign surfaces only the incident details and status indicators that are most relevant to you, and the entire status page can be filtered down to only what you want to see.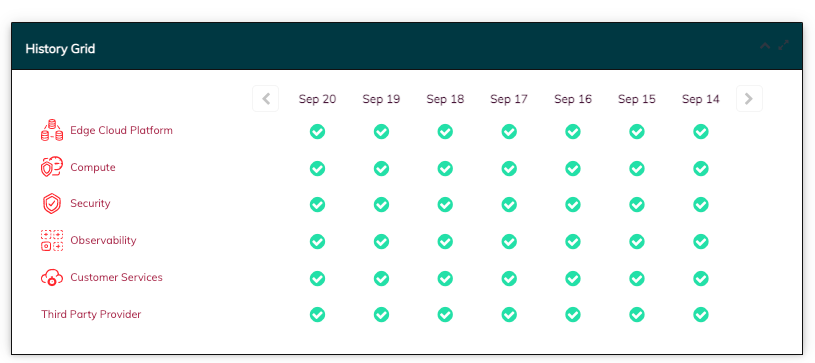 We've implemented status breakdowns by Fastly's product categories – Network Services, Security, Compute, and Observability – as well as by products, regions, and services.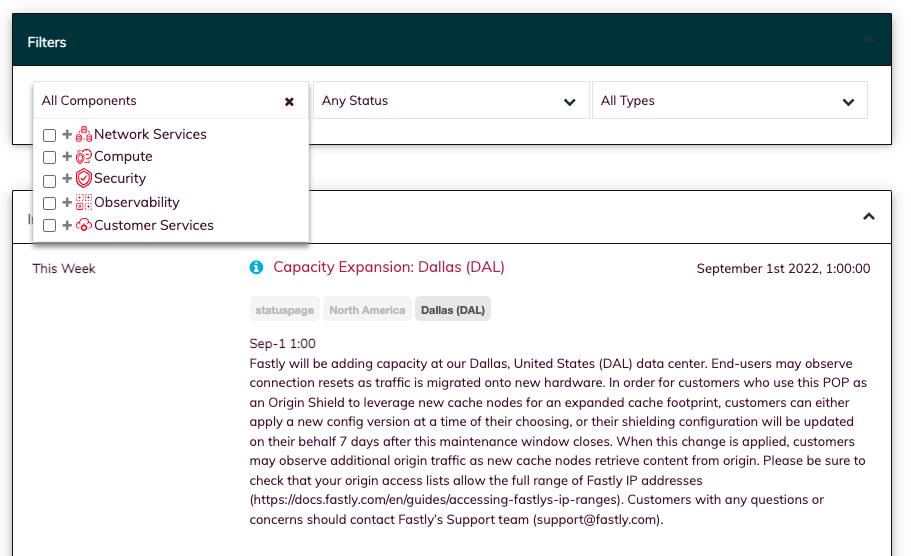 New Subscription Options
You can now subscribe to incident alerts for those products, regions, and services that you care about, while still maintaining our previous wide-net subscription options to all status page components.
If you're already subscribed to status page alerts, we will automatically subscribe you to the same products you were subscribed to in the previous system, as well as the corresponding external carrier (SMS) alerts, on November 14, 2022.
Need to make changes to your current subscription? No problem! Simply click the 'manage subscription' button at the bottom of the new subscriber notification you receive on November 14 when we import your preferences. You can subscribe to all components, add alerts for new regions incrementally, opt out of alerts, or modify subscriptions from the 'manage subscription' screen at any time.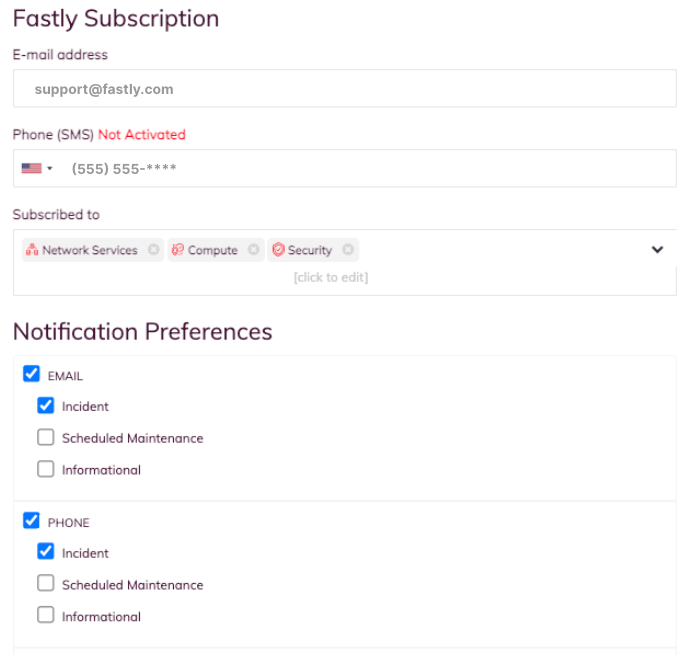 In addition, the new notification preferences listed below offer additional ways to personalize your experience and control the types of alerts you receive.
Incident: Degraded, disrupted, or down products or services

Scheduled Maintenance: Planned maintenance that may require customer action and/or awareness to reduce the likelihood of impact

Informational: Posts that share preventative investigations or general business information for customer awareness about Fastly products, its network, change freeze periods, etc. 
Providing a World-Class Status Page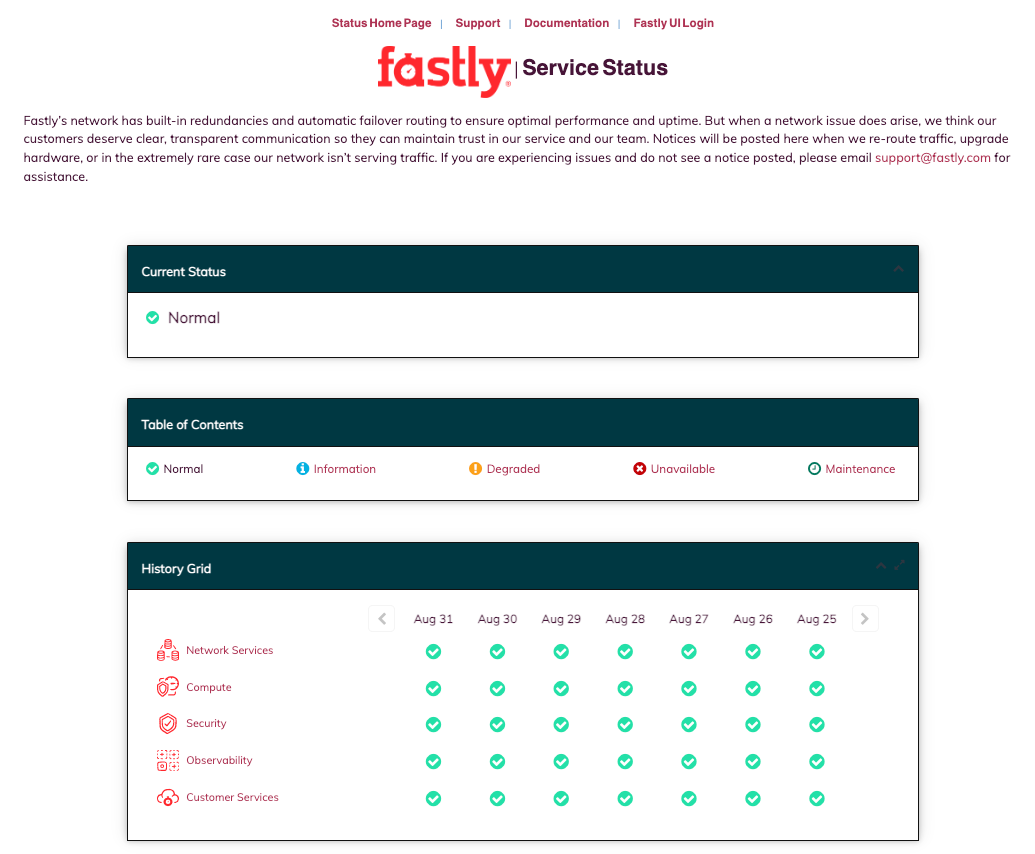 We know you depend on timely incident response and transparent status updates, just as you rely on Fastly to quickly identify, investigate, and apply sustainable fixes to issues when they arise. We hope this new status page design helps you find important information more efficiently than ever before. We can't wait for you to explore the new design, and to customize your subscription preferences exactly to your needs. 
Note: The initial release period of October 10 - November 14 will serve as a demo of this page, so customers can review the changes before we implement them permanently. During this time, our current status posts will be imported via API connection to display how the page will look and function, without causing duplicate notifications for our customers. On November 14, we'll import all subscriber information and go fully live.
If you have questions about your status page subscriptions or functionality, please reach out to your dedicated technical account team, or support@fastly.com.  And a massive thank you to all customers for your continued trust in Fastly's services.