Join Fastly at RSA Conference 2023
It's that time of year again! The 2023 RSA Conference (RSAC) is just around the corner.
The renowned annual conference brings together the world's greatest cybersecurity minds, ideas, innovations, products, and companies. We can't wait to head into San Francisco's Moscone Center to once again gather with our friends, colleagues, and customers to network and learn all the latest and greatest in our industry.
As always, Fastly will provide a number of opportunities to meet and mingle. Here's where you can catch us to speak with our experts, win free stuff, and learn all about modern app protection with an edge.
Swing by our booth

Come visit us at Booth #1743, South Expo, to see how Fastly provides the most effective web application protection out there. 
Stay for a demo on how straightforward and intuitive app protection can be. Talk with our experts to learn how Fastly can improve your app performance, enhance your security, and reduce workloads and frustration for your devops and secops teams.
Nerd out with our experts
Fastly's cybersecurity experts will be doling out wisdom throughout the conference, including a track session and book signing!
Need some Security Chaos Engineering in your life? Kelly Shortridge, Senior Principal Engineer at Fastly, will be at the Fastly booth signing her latest book for O'Reilly, "Security Chaos Engineering: Sustaining Resilience in Software and Systems," which charts a modern course for cybersecurity that brings it out of the dark ages and into the enlightenment era of resilience. Catch her on Wednesday, April 26, at 11:30 a.m. PT.

AI synthesizers are all anyone can talk about - including us! Liam M. Mayron, Ph.D., Staff Product Manager at Fastly, will give a talk entitled, "Security Implications of Artificial Intelligence Synthesizers," on Thursday, April 27 @ 9:40-10:30 a.m. PT in the Moscone West 3009 room. Liam will discuss tools that are available to synthesize content, how they work, and how they could pose security risks. He'll share what can be done to detect generated media and how security postures may need to be adjusted in response to the maturing of AI content generators.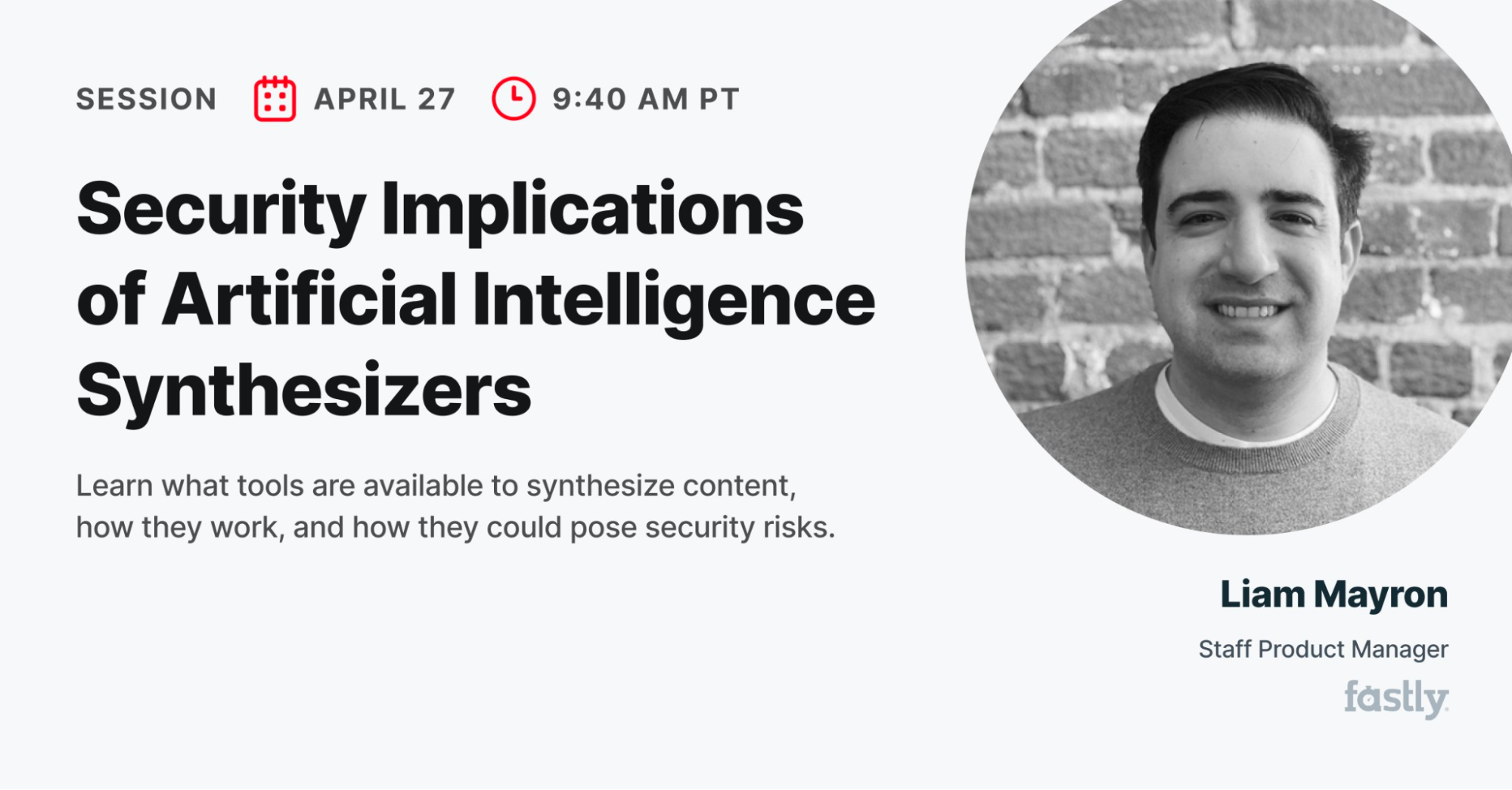 You can also request a meeting with our experts by filling out the form at the bottom of this page.
Fill your belly
If all this learning gives you an appetite, we'll be providing several opportunities to refuel:
At the booth, in partnership with AWS:

Pizza and beer, with entertainment from Champion Pizza Acrobats, Tuesday, April 25, 4:00-5:00 p.m. PT. This one is not to be missed!

Fresh baked cookies, Thursday, April 26, 1:00-3:00 p.m. PT 

Off the expo floor

Get your Fastly-sponsored coffee and swag all week at the Cybrew Cafe, Level 2, Moscone West
Collect some swag
It wouldn't be a conference without some irresistible giveaways!
Come get Fastly stickers at the booth, and perhaps even a pair of custom SOC(k)s.

At the Cybrew Cafe, we'll be handing out 4-port USB Bot Boys.

Grab your BagSmart tech organizer at our meeting suite.

If you attend a theater session, get a demo, or just come to the booth to say "hi," we'll scan your badge for a chance to win a pair of VIVE Flow VR Glasses – a $499 value!
See you at RSAC!
Anyone who's been to RSAC before knows the very best thing about the conference isn't the talks, or the swag, or even the pizza-flinging acrobats.
It's the connection. 
So we hope to see you at #RSAC2023 – to (re)connect, to learn more about you, and to find out how Fastly can help you get the speed, security, and edge cloud innovation you need to deliver engaging experiences for your customers.