Meet the new Fastly Control Panel
Today, we're excited to introduce the all-new Fastly Control Panel, designed with you in mind! This revamp is the biggest improvement we've ever made to the core experience of using the Fastly platform, making it easier than ever to use the full breadth of our features. It massively simplifies how you spin up new services, find the information you need, and collaborate with your team, and that means better experiences for your users.
Here are the highlights you need to know:
Easier to spin up new CDN services! Our CDN features are often the first thing that made you a fan of the Fastly platform, and we've made it incredibly simple to add new services — if you haven't given it a try, this is where you'll want to start.

Fast access to real-time data! You'll get instant visibility into data across your entire account, right from the start. And if you want to drill down from there, many more details are just a click away.

Easier search, sort, and find! Find that service right when you need it. Search, sort, and scrutinize your services instantly, and you can even save services as favorites, making it easy to keep CDN and Compute services right at your fingertips.

Easier user management! Get your team on the same page. Now you can invite and manage users on your team right from the Control page home. This new simpler interface is a good excuse to invite any colleagues who may have found Fastly a bit too intimidating or complex to dig into in the past. (Have them try out the new observability features! They'll be hooked.)
If you're not using Fastly yet, this is a great time to sign up for a free account! Start running up to two domains (for free!) and see just how easy we've made it.
If you're already using Fastly you can also just dive right in and get started! Plus, be sure to join us in our forum to share your thoughts on your favorite parts of the new Control Panel and your suggestions or requests about what you'd like to see as we keep iterating. (We know this is a big change, so constructive criticism is very welcome, too!) We can't wait to see what powerful parts of the Fastly platform you discover thanks to this new experience.
At-a-glance performance visibility
The most obvious change to the Control Panel home is the new aggregated account stat cards, which provide you with a comprehensive overview of your Fastly usage with immediate access to some of the most important data. The most important stats for our customers tend to deal with requests, bandwidth, cache hit ratio, and errors. These are usually reliable indicators of the overall health and performance of your Fastly services, so you now have at-a-glance visibility into your account performance. 
You can see a regional breakdown of your usage, and get an account-level breakdown of key metrics like cache hit ratio, errors, bandwidth, and much more. This data empowers you to make informed decisions and catch issues earlier, should they arise. We will be adding more metrics and customizations over time so you can see exactly what is most important to you.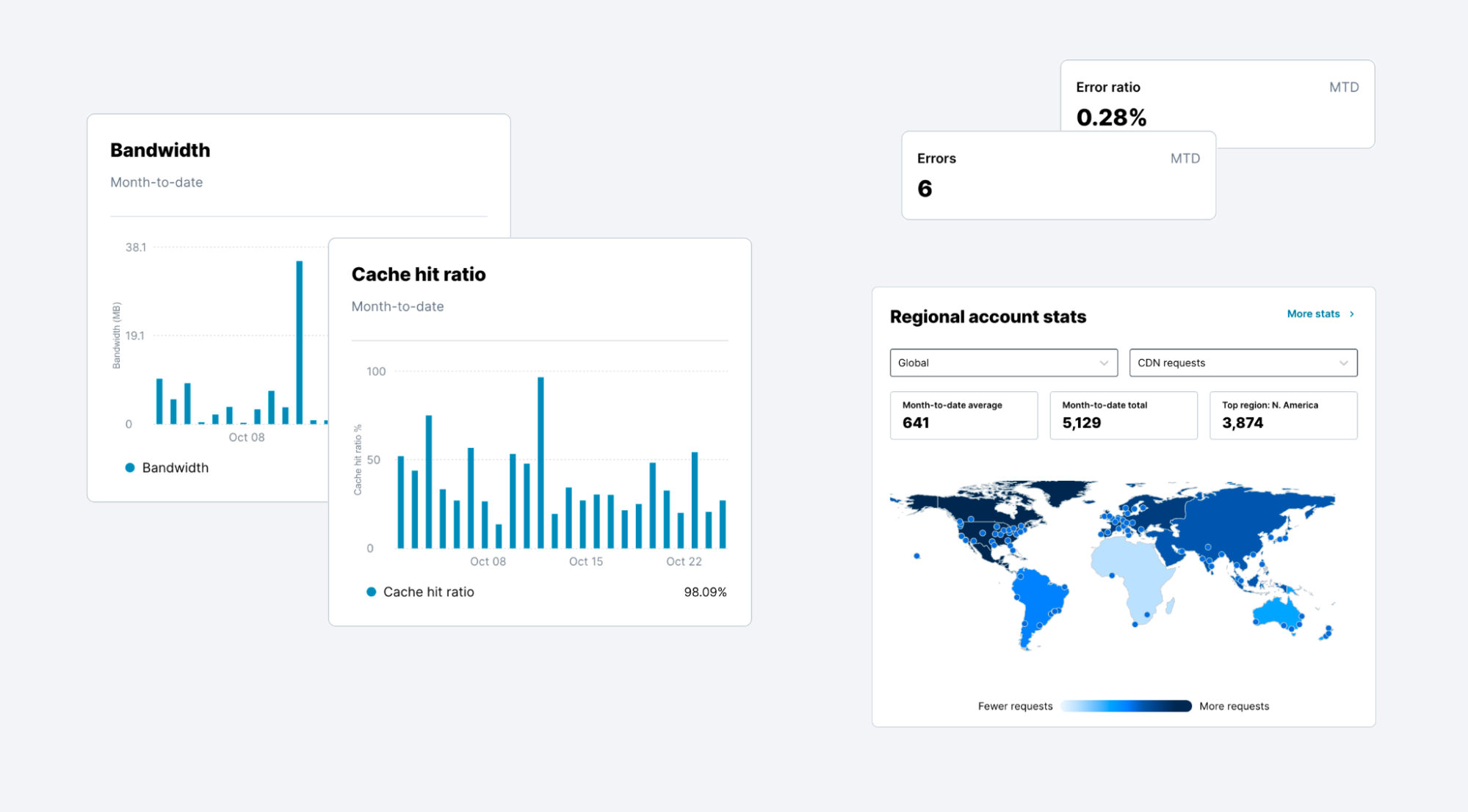 Easy access to your most important services
We've reimagined the way you access your CDN and Compute services. You can now sort services by criteria such as last viewed, highest requests per second (RPS), favorites, last activated, and last created. This means you can quickly find and access the services that matter most to you, making your workflow smoother and more efficient.
If you're looking for the old trusty table of services you can still find that on the new CDN services and Compute services pages. Just click on Deliver or Compute in the main navigation.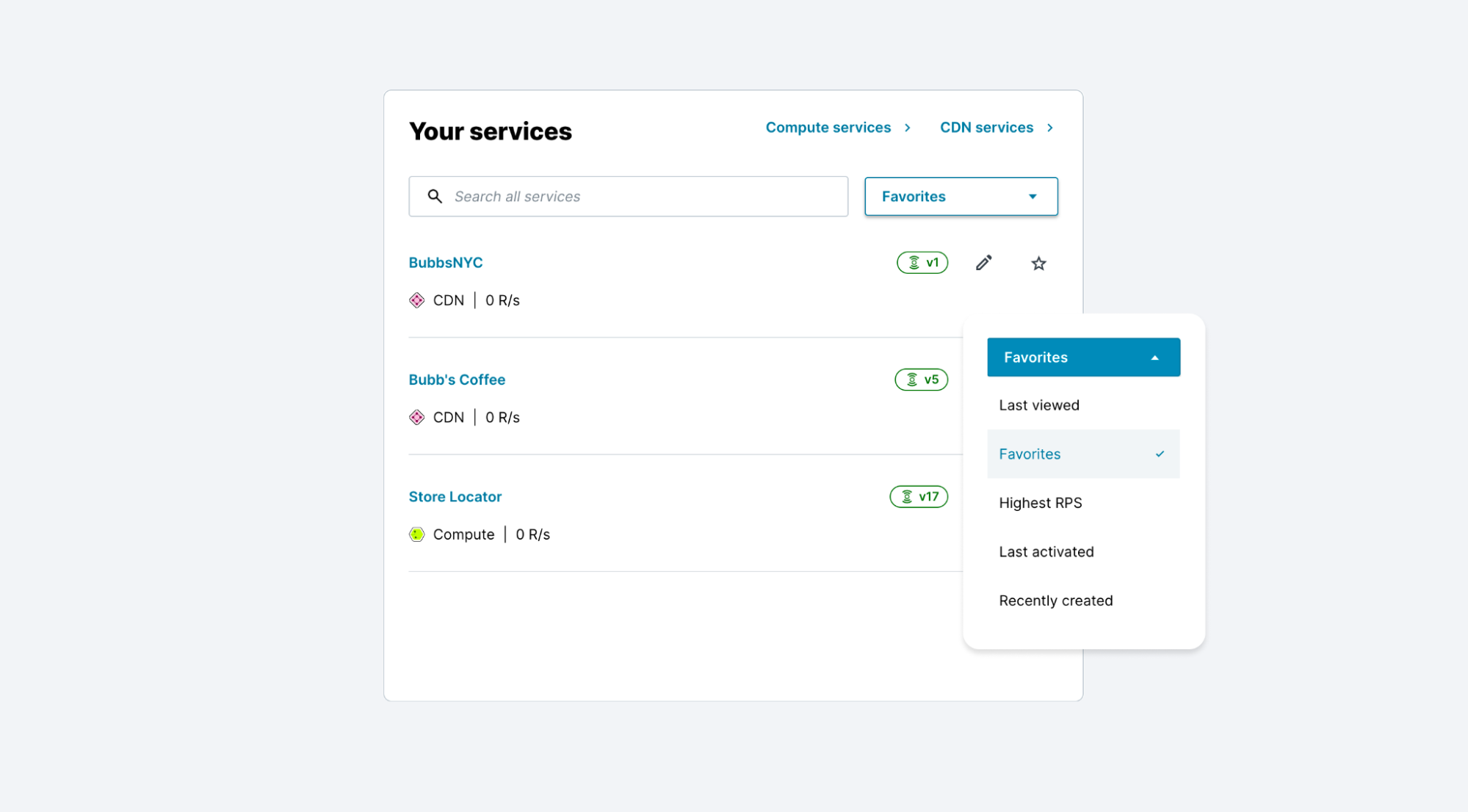 Stay on top of your TLS certificates
TLS certificate management is critical for securing your data and ensuring your services run smoothly. Our new view gives you an overview of your TLS certificate statuses, allowing you to easily keep track of when a certificate is about to expire. No more last-minute surprises or potential disruptions.
Simplified CDN Service Creation
Creating a new CDN service just got easier. Our revamped interface features a simplified service creation process, helping you focus on the most important settings to get your new service up and running quickly. We've stripped out all the settings and only included the essentials so you can get your new service stood up quickly. When you're ready to dig into the full list of settings they are all still there on the service configuration page. 
In-Panel Access to Fastly Resources
The Control Panel now provides direct access to a wealth of resources, including Fastly's documentation, community forums, developer hub, and more. Whether you're troubleshooting an issue or exploring new possibilities, you'll find the information and support you need right there on the new home page.
Manage Users and collaborate seamlessly
We understand that you often work as part of a team. That's why we've made it easier than ever to manage users and collaborate. You can now invite teammates and manage user access right from the Control Panel home. No more navigating through multiple menus and pages just to send an invite – it's one of the most used features, so it should be there for you right when you arrive.
We are very excited to bring you aggregated account stats, efficient service sorting, TLS certificate monitoring, simplified CDN service creation, and quick access to resources and user management. You'll have everything you need to make the most of your Fastly services right when you log in.
We're committed to continually improving your experience with Fastly. By moving to this card-based design we can now iterate on and refine the Control Panel more easily. We look forward to your feedback and suggestions as we make more improvements, and make your job as easy as it can be.