Network Expansion Update: 51 POPs & 22 Tbps
We have been busy over the first half of the year launching POPs in Vancouver, Canada; Santiago, Chile; Buenos Aires, Argentina; and Mumbai and Chennai, India. Additionally, we've completed upgrade cycles to our POPs in Sydney and Melbourne, Australia; Paris, France; Madrid, Spain; Denver, Colorado; and Chicago, Illinois. This work brings the total global number of Fastly POPs to 51 along with 22 Tbps of connected network capacity.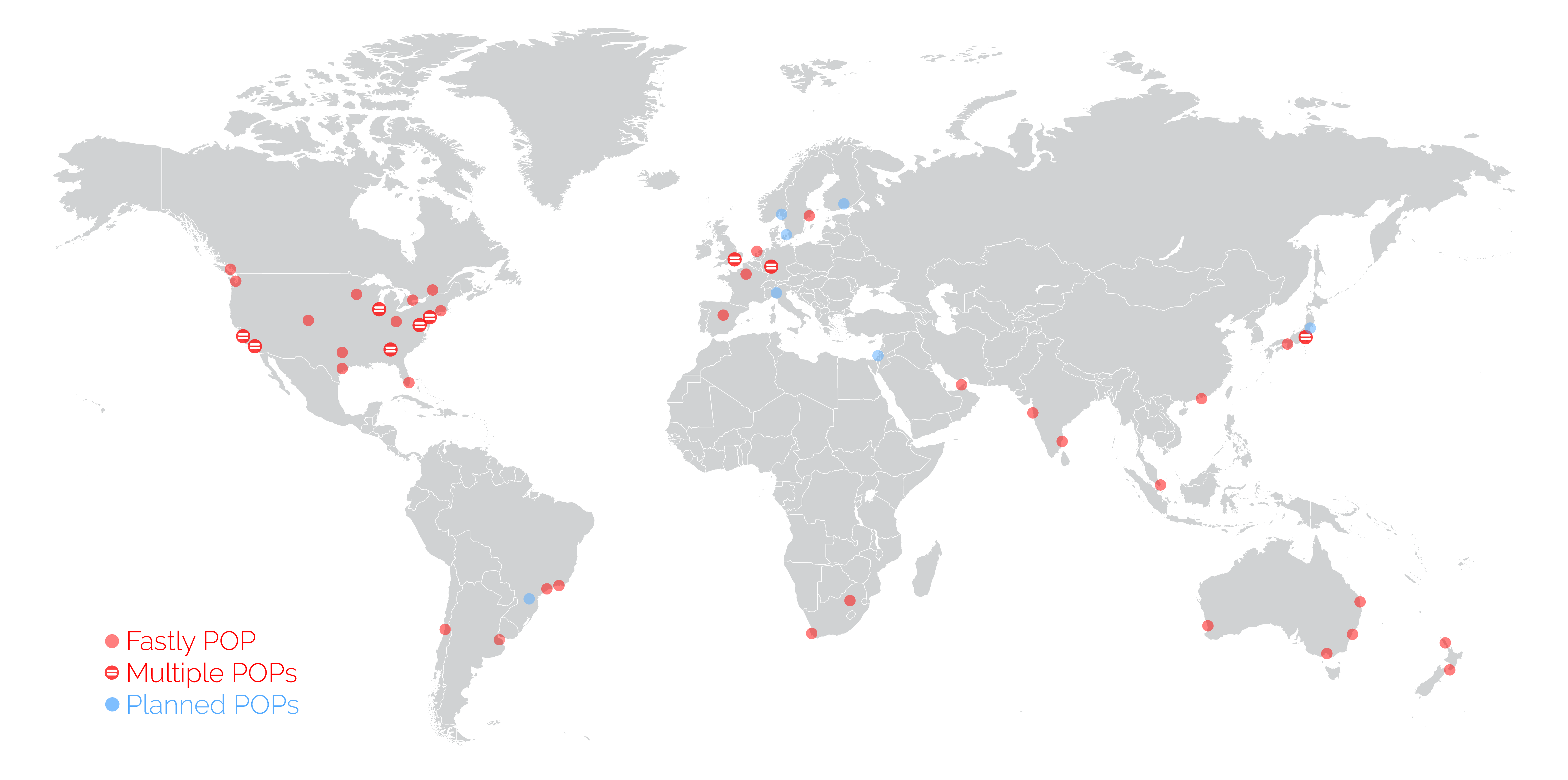 The Fastly network map: 51 POPs and 22 Tbps!
We are particularly excited about our global expansion work in Chile, Argentina, and India. Home to approximately 14 million Chilean internet users, our new Santiago POP (SCL) garnered latency reductions in excess of 100ms. Now we are also connected to PITChile — an Internet Exchange Point in Santiago where networks can directly connect to the Fastly POP if desired. Similar to Chile, Argentina's nearly 30 million internet users experienced improvements of roughly 40ms as Buenos Aires (EZE) came online. As our 3rd and 4th POPs in South America, we are happy to have significantly improved user experience in those regions.
Our new POPs in India required years of careful planning among a wide variety of teams at Fastly. The topology of the internet in India is very complex. There are nearly 2,500 BGP-enabled autonomous systems in the country of India, and only a few available major international ISPs. We spent months of time analyzing the topology to carefully place Fastly POPs in Mumbai and Chennai. As a result of this complexity, our approach to India has been slow, methodical, and calculated. We learned fascinating things about how the internet works in India every day, some of which I hope to share on the blog someday. In the meantime, we're carefully tweaking routing announcements and traffic engineering to ensure quality experience to Fastly for the nearly 750 million internet users in India.
Upgrades in Sydney, Melbourne, Madrid, Paris, Denver, and Chicago demonstrate our continuous growth and commitment to quality as capacity upgrades provide more headroom in the system, ensuring uncongested, free flowing bits. We are installing 100GE circuits to our POPs, allowing rapid scaling to 22 terabits per second (Tbps) of connected edge capacity. We are now present at 57 Internet Exchange Points; having recently joined Any2 Denver, JPNAP Tokyo and Osaka, and PITChile, making it easier for partner networks to reach Fastly.
We are excited for what we plan to deliver in the next quarter for Fastly Infrastructure. Check out our network map — a whole slew of new blue dots have appeared in exciting locations across the world!