Delivering Super Bowl for more than a decade -- and breaking records in the process
2023 marks the 11th year of Fastly's involvement in the Super Bowl. Back in 2013, we secured dedicated bandwidth to online businesses advertising throughout the game. However, since 2018 Fastly has been actively involved in delivering the live Super Bowl stream from broadcasters to millions of online viewers around the globe.
For the Media & Entertainment industry, all eyes will be on online streaming growth
After a sharp decline in Super Bowl viewers from 2017 to 2021 - from a total of 114 million US viewers to 91 million viewers (source), the '23 Super Bowl is expected to continue to reverse the trend that saw '22 climb from 91 to 99 million viewers (source) . The conference championship games averaged 50 million viewers - up some 3% from last year, and the industry experts (source) are predicting viewership will be back over the 100 million mark in 2023.
Specifically for online streaming, we expect the number of online viewers to increase in '23 and do so at a higher rate than '22. As illustrated below, 2022 growth slowed compared to previous years, which can possibly be explained by people enjoying getting together again for Super Bowl parties after a couple of years of watching on their own or in very small groups.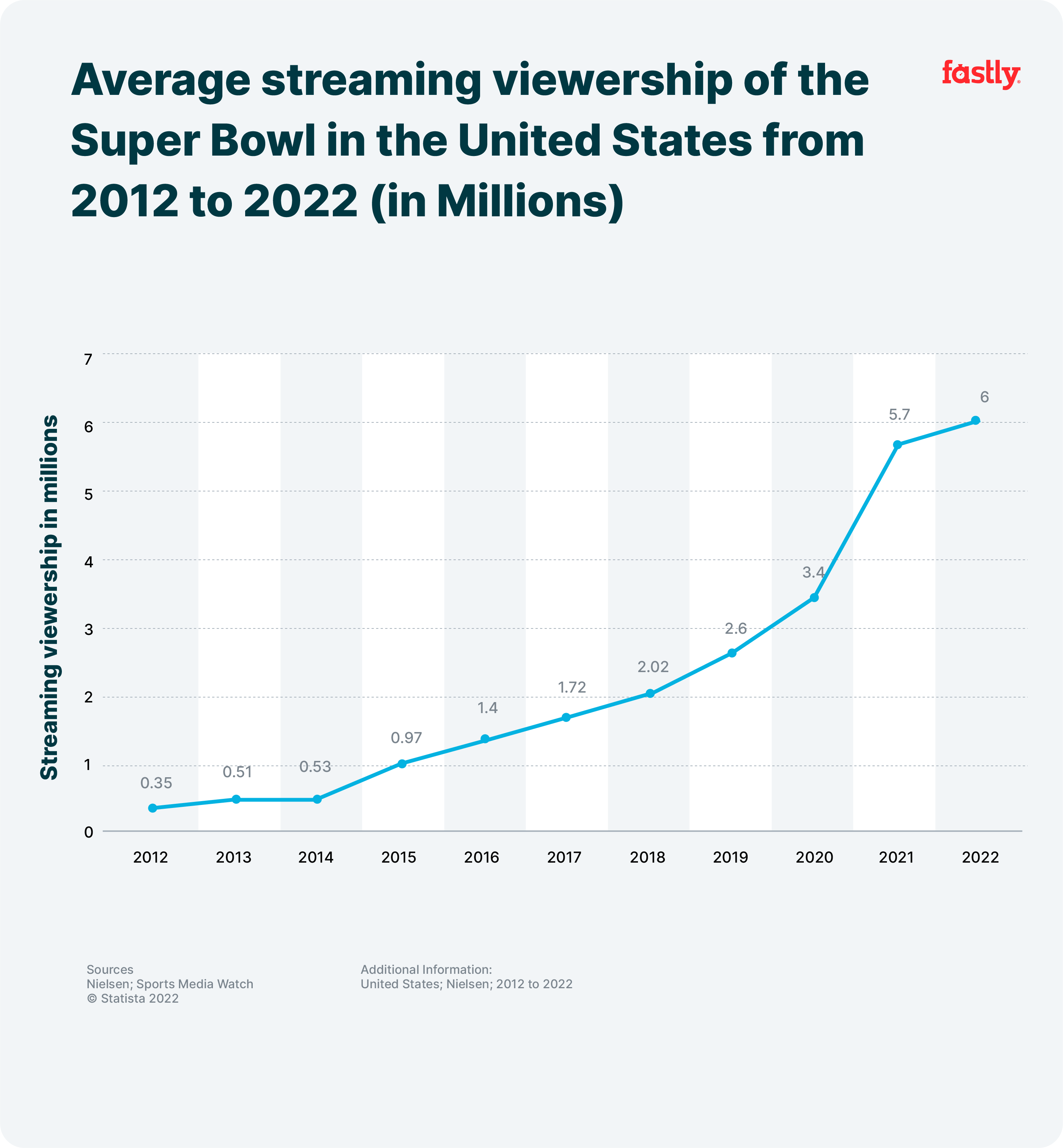 2023 Traffic patterns on the Fastly network
For Fastly's global network, Sunday brought record levels of traffic with 81.9 Tbps. Of that 73.2 Tbps was delivered in North America; which in itself was a record. 
The chart below depicts the 2023 Super Bowl traffic Fastly delivered. Note that infrastructures separate from those of Fastly deliver the commercials, which makes for a rather jagged line with significant drops during the ads.
As expected, once the game moved closer to the start time, we observed declining traffic at other broadcasters. Also, similarly to previous years, the halftime show resulted in a significant drop in the social media traffic we typically see at that time. However, one network, in particular, was buzzing about Rihanna's possible pregnancy. (since confirmed - source). 
The late 35-35 tie in the game, kept viewers watching to the very end, and we saw the second-highest 2023 Super Bowl traffic peak just as the game wrapped up.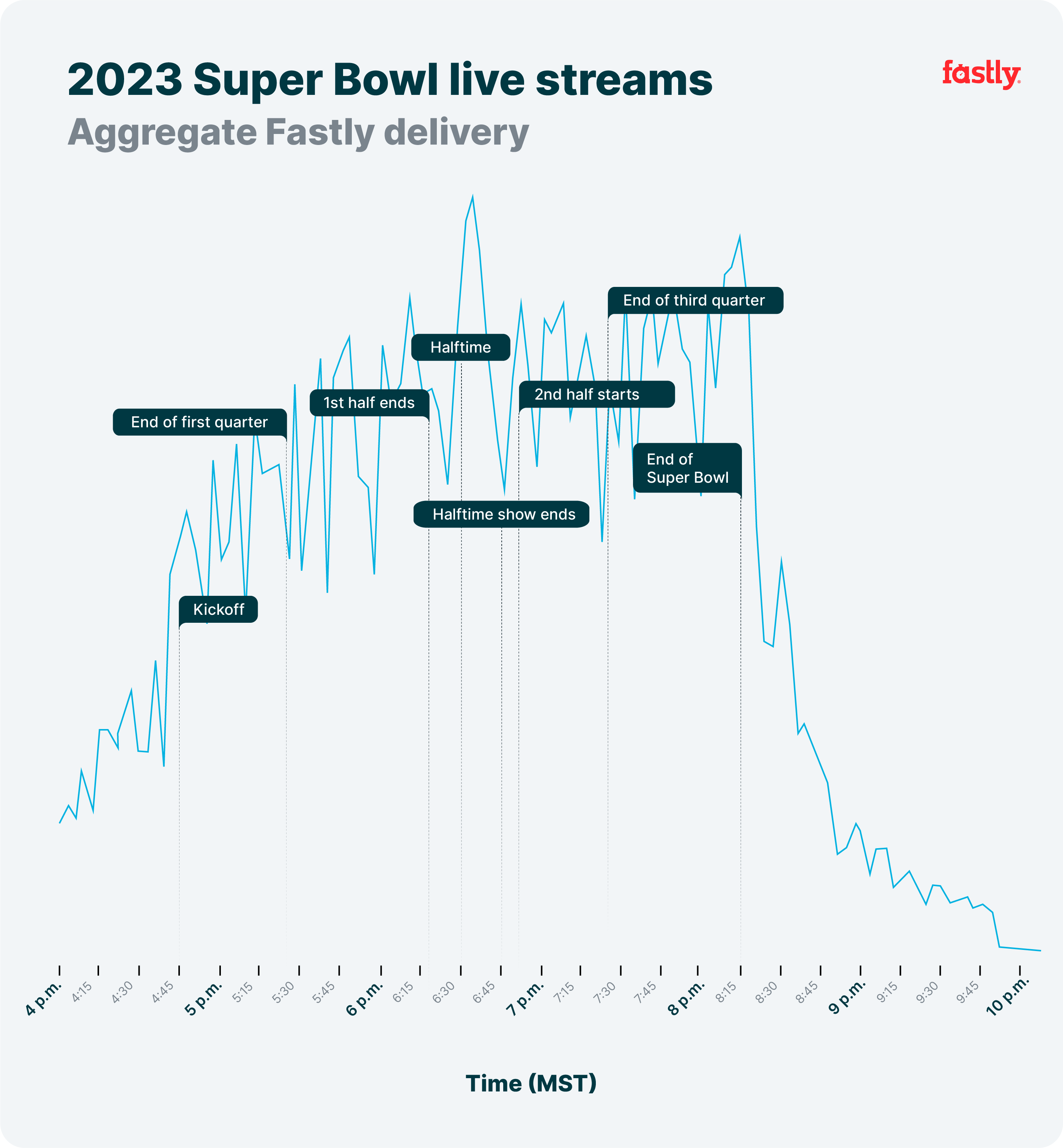 Do or do not  - there is no try
With 25 Million US cable subscribers lost and another 25 million expected to leave by 2025 (reference), live event coverage is rapidly finding a new home online. It's an unforgiving environment – few things online carry as much risk as live sports coverage. With no "do-over", brands can suffer serious damage that not only can push fans to look for alternatives, but also complicate future contract negotiations. As far as delivery is concerned, it is standard practice to use multiple vendors to give you options when things go wrong, and practice and preparation is the name of the game. Case in point: During Streaming Summit '22 one broadcaster mentioned that they start planning for the Super Bowl up to 18 months in advance. 
This year, again, we're helping multiple online broadcasters and aggregators deliver high-resolution streams to a myriad of fans and their devices, scattered across the globe. Fastly's 233 Tbps global network makes us uniquely positioned to help online broadcasters reach online audiences of any size and without delay. Fastly Media Shield - an industry staple when it comes to live sport delivery in multi-CDN environments - helps consolidate origin requests and lets content distributors regain lost insight. 
Also, Fastly's actionable insight data is available in real-time giving online broadcasters a unique position to see internet weather and bottlenecks as they occur, thereby being able to react before the broadcast itself becomes the news.
A brief note on e-commerce: 
As we have commented on in previous years, the practice of releasing Super Bowl commercials ahead of time has had a significant impact on the traffic patterns we see in the online retail space. While we do see increased traffic to the sites during the game, the increase is trending toward earlier releases, and therefore fewer peaks during the game. Maybe less fun for audiences and it certainly takes away the element of surprise, but with the cost of a 2023 Super Bowl ad reaching up to $10 million for a 30-second spot, there's plenty of reason to do everything you can to maximize the number of people watching.
Final thoughts
There is no question the majority of Super Bowl audiences are still getting content via more traditional ways. The delta between cable and online delivery is still very significant, even when subtracting another 25 million subscribers from the cable networks. We are proud to help the world's largest and best broadcasters deliver content online, and we in particular congratulate FOX Sports for another successful live-streaming event. 
For a previous Fastly webinar with FOX Sports where they talk about the Super Bowl and the prep work, click here.