Fastly's Product Vision for 2021
From dynamic shopping experiences to quality video-on-demand platforms to secure and personalized financial services, our customers build incredible things online — and nothing proved that more than the past year. As 2020 demanded heightened levels of flexibility, innovation, and transformation, our customers answered in a way that inspired us all. 
The challenges of the world suddenly moving online this year accelerated the development of innovative digital solutions — and that pace of innovation feels here to stay. For the last decade, we've built tools that have given you a high degree of visibility, control, and scale over your web applications. But we're ready to expand our offerings to help you build scalable, performant digital experiences confidently and quickly in the face of any challenge.
To do this, our aspiring product vision is designed to provide you with high visibility, nuanced control, high-performance computing power, inherent trust and safety, the ability to handle scale in the face of any traffic surge, and the ability to deliver on your business goals. Let's explore our areas of focus for 2021.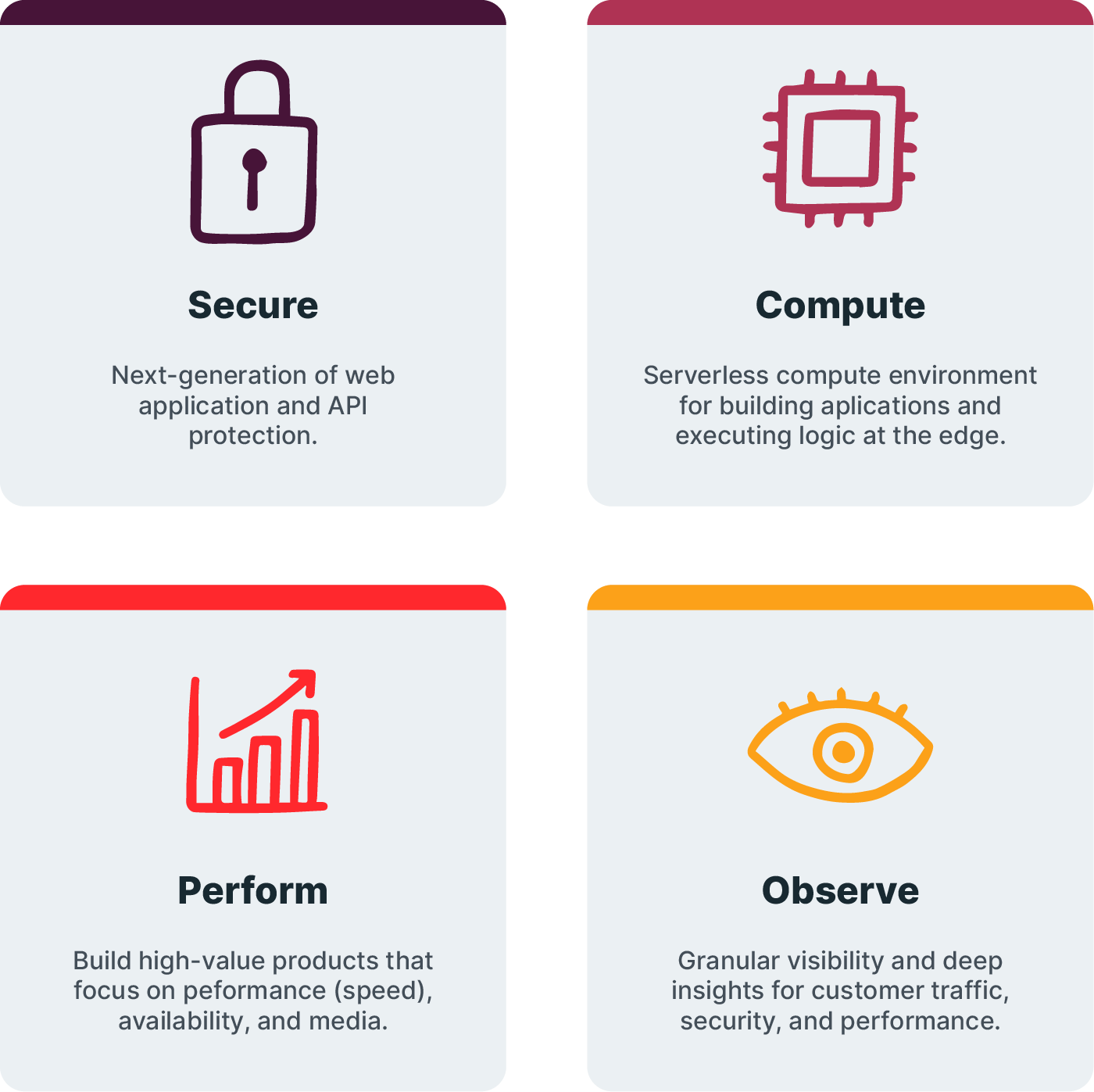 Secure
To build the best user experiences at the edge, you need the right tools of course, but there's another key imperative for building quickly and confidently — security. It can, and should, function as a core part of your workflow. In 2021, our areas of focus include:
Combining the best of Fastly and Signal Sciences security technologies for next-generation web application and API protection;

Protecting customer website and applications against abuse and downtime by providing detection and mitigation capabilities; and

Enabling customers to authenticate their end users/clients at Fastly's edge.
Our security roadmap includes launching managed security, bot mitigation, edge rate limiting, and mutual TLS authentication, as well as launching Secure@Edge. Secure@Edge will integrate the Signal Sciences and Fastly security portfolios to form a robust web application and API protection security solution, including run-time protection, rate limiting, bot mitigation, and a next-generation WAF.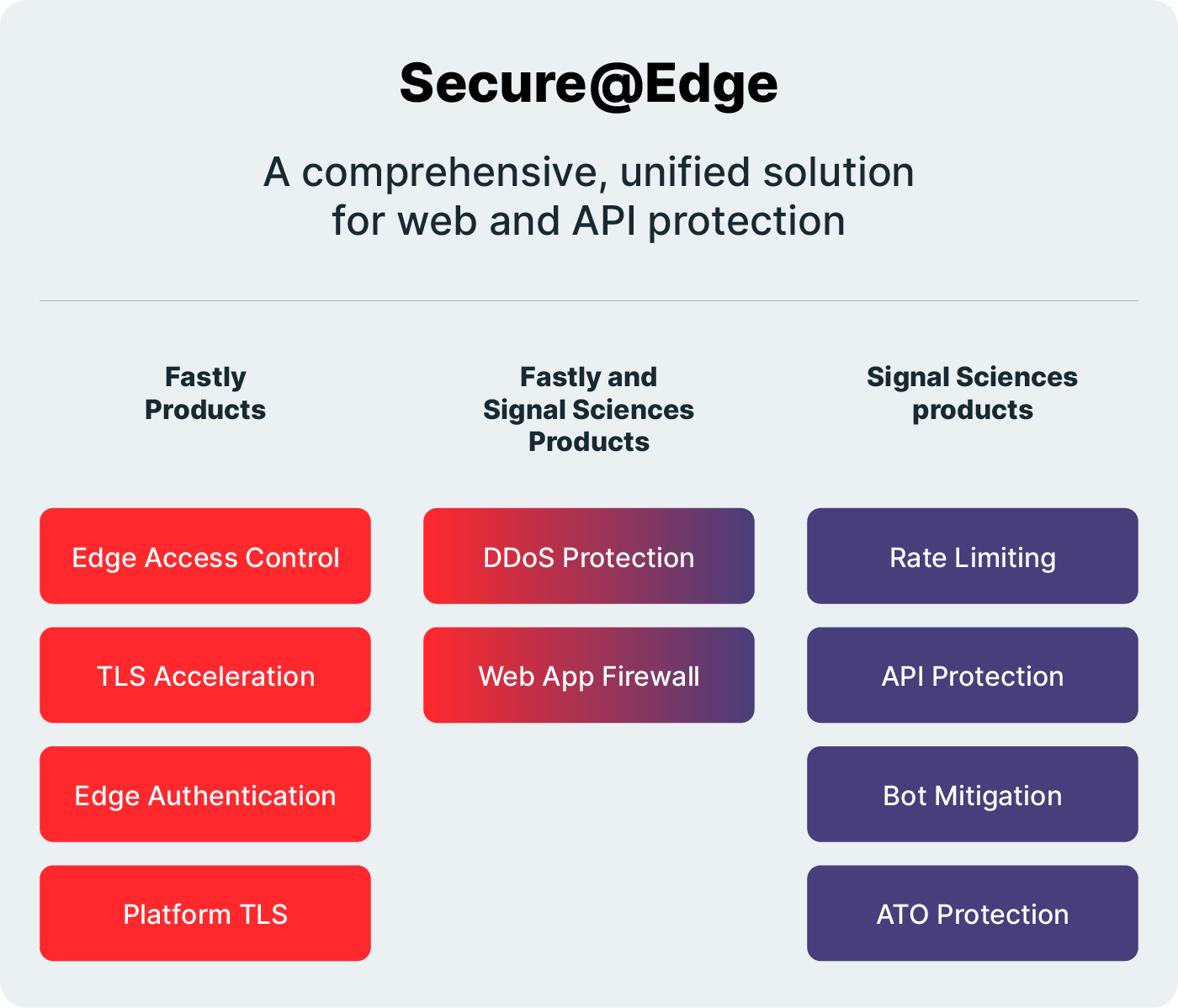 Compute
With confidence in place, now you need the tools and primitives that inspire you to build something at the edge before we've even thought of it ourselves. Compute@Edge, our serverless compute environment, now has live production traffic running on the platform. In 2021, we will continue our work toward general availability. 
Compute@Edge offers exceptional observability, is language and cloud agnostic, and functions as an integrated part of your stack with dev-friendly tooling. We will carry this momentum into our 2021 areas of focus, which include: 
Working toward continued maturity of the platform;

Enabling builders to create complex stateful workflows on Compute@Edge with speed and security;

Supporting CDN-extended use cases by adding advanced cache controls to the Compute@Edge guest API; and

Enabling broad adoption of the platform by builders of all skill sets by supporting language and tools they are familiar with.
Compute@Edge roadmap items planned for next year include continued work toward general availability, key/value store, full cache control API, additional languages, and a local dev/testing environment. 
Perform
At the heart of our story is our network, and we continue to innovate and invest in performance and scale. In 2021, we will continue to evolve the foundations of our network to set the stage for the next phase of growth, capacity, and speed. 
This will benefit everything we do, but it will be especially critical for our media customers. Our streaming customers continue to see explosive growth this year, challenging us, inspiring us, and pushing us to new heights. 
In 2021, we'll continue to innovate on our network with new POP designs, new hardware optimizations, major network automation improvements, and flat-out growth of the network. Other areas of focus include:
Providing innovative solutions for addressing customer concerns regarding excessive egress cost from the origin;

Leveraging Compute@Edge to build new video features and other media solutions, including dynamic ad insertion, and low-latency HTTP live streaming; and

Enhancing observability features for seamless streaming event capabilities.
Observe
It's undeniable that applications are getting more complex: they commonly include multiple microservices, run across multiple clouds, and leverage more than one CDN. Stitching together an end-to-end view of performance across heterogeneous, and increasingly distributed, systems can be difficult. 
A newer area of investment for us in 2021 will be observability. We've long maintained that visibility is critical to building and delivering with confidence, and as we've worked with customers on real-time logging, they've asked us to invest more in our observability function. We've listened. 
In the new year, we plan to build on top of our existing logging and stats functionality by delivering advanced analytics and alerting capabilities. Our goal is to give you intelligence faster, so you can take meaningful action. Other areas of focus include:
Providing a flexible mechanism for dynamically defining and counting new mechanisms with custom metrics;

Exposing granular, real-time, and historic origin data by expanding Origin Insights;

Enabling customers to receive notifications and trigger alerts based on service or customer-level criteria;

Ensuring log processing can reside in a region compliant with a customer's national data protection laws; and 

Continuing to scale our APIs and infrastructure to match the incredible growth of our customers and partner.
What's next?
This past year has certainly been a year of exciting innovation. It's also been a year of challenges for everyone and every business. As we take on big and important growth initiatives in 2021, one thing for Fastly remains the same — we will never stop working to build ahead of your needs. 
Our promise to you is this: Fastly will continue to be relentless in our commitment to putting new tools into your toolkit and sharpening the tools we've already provided, in order to help you build more secure and performant applications. We hope you'll hold us accountable and keep the conversations going. Together, we can build the best and most secure experiences the web has to offer.
This blog post was based on a talk given at Altitude, our customer summit held in November 2020. Watch other talks on the future of Fastly and the internet from the virtual event here.
---
This article contains "forward-looking" statements that are based on Fastly's beliefs and assumptions and on information currently available to Fastly on the date of this article. Forward-looking statements may involve known and unknown risks, uncertainties, and other factors that may cause our actual results, performance, or achievements to be materially different from those expressed or implied by the forward-looking statements. These statements include, but are not limited to, statements regarding future product offerings, the direction and strategy of our business, and our vision and objectives for future operations. Except as required by law, Fastly assumes no obligation to update these forward-looking statements publicly, or to update the reasons actual results could differ materially from those anticipated in the forward-looking statements, even if new information becomes available in the future. Important factors that could cause Fastly's actual results to differ materially are detailed from time to time in the reports Fastly files with the Securities and Exchange Commission (SEC), including in our Annual Report on Form 10-K for the fiscal year ended December 31, 2019, and our Quarterly Reports on Form 10-Q. Copies of reports filed with the SEC are posted on Fastly's website and are available from Fastly without charge.