Building the edge: 40 POPs & 15 Tbps of connected capacity
We're pleased to announce that we've added a collection of new points of presence (POPs) to the Fastly global network. Since our last update — announcing our 35th POP in Johannesburg — we've deployed additional US POPs in Chicago, Newark, Ashburn, and Los Angeles, plus a brand-new location in Rio de Janeiro, Brazil, bringing us to a total of 40 points of presence.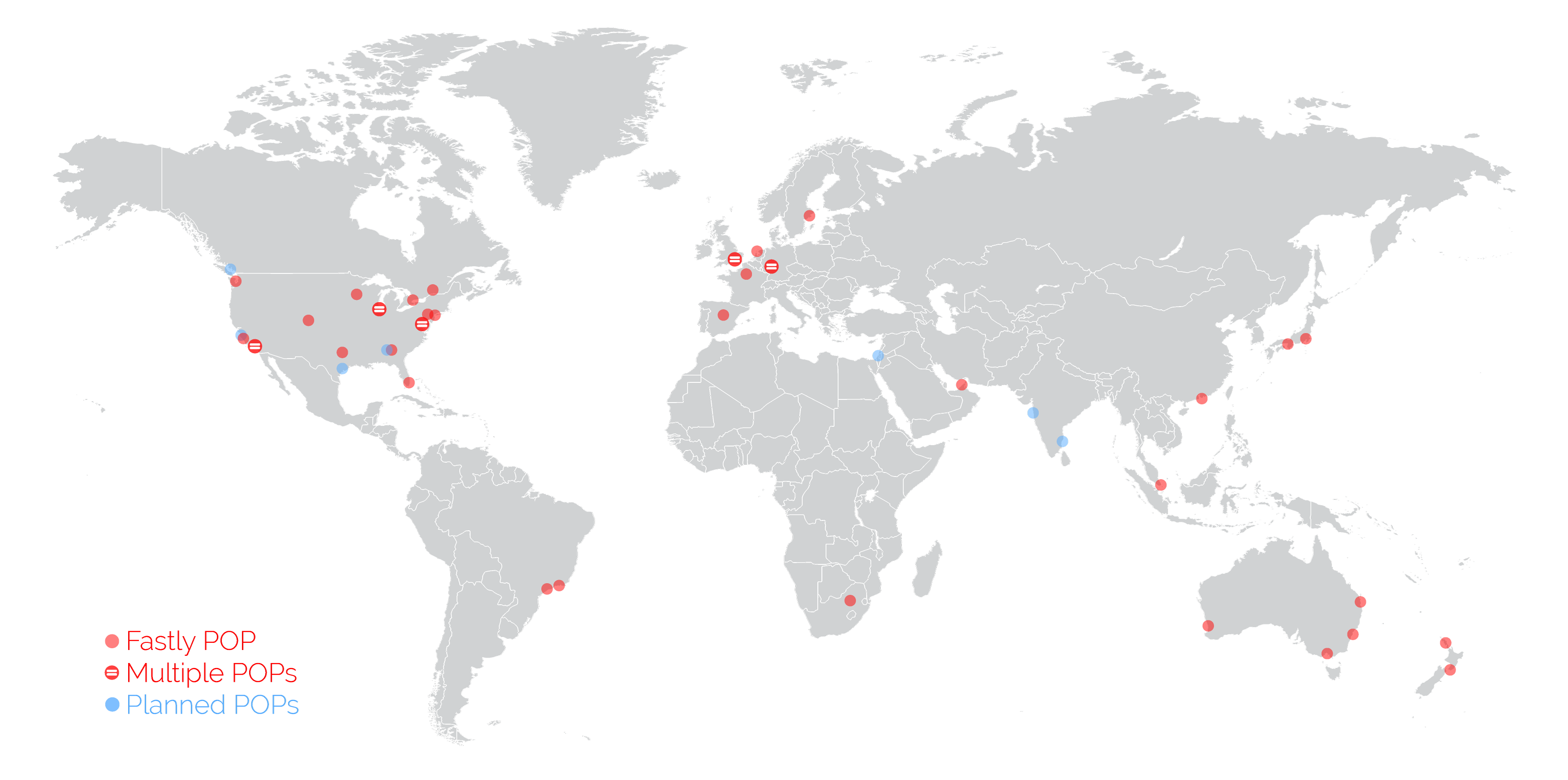 The Fastly network map: now with multiple POPs in metro areas!
As I presented at Altitude, our customer summit, we've continued to expand our US network in the first half of 2017. Codenamed "Project Doughnut," we designed a new modular POP, based on 100G Ethernet technology, to accommodate the demands of our growing customer base. These new POP designs feature the evolution of 10G Ethernet connections to 25G Ethernet connections to the cache server, allowing us to scale from 40G per cache to 100G per cache! In addition, due to more port-dense network switches, we can now double the count of cache servers located in a Fastly POP. Scaling up on both of these dimensions gives us increased request processing capacity and additional network capacity.
As part of this work and our second location in South America, our Rio de Janeiro POP provides in-continent redundancy to our existing São Paulo, Brazil POP, while reducing latency for more users in Brazil. Our original São Paulo POP has also been upgraded, and we'll be moving production traffic to that 100GE-enabled POP in the very near future. (You're subscribed to our status page to stay informed, right?!)
To take advantage of this new cache server capacity, the new POPs have to be fed with significant amounts of internet connectivity. Fastly's global network now exceeds 15 Tbps of connected internet capacity, and we will continue to scale alongside our rapidly growing customer base while fostering relationships with new customers across the world. The adoption of 100G Ethernet, paired with port-dense 5 Tbps switching platforms, allows for the rapid scaling of our network edge. The Fastly network engineering team has lit up dozens of 100G IP transit ports with our connectivity partners over the last few months.
Besides acquiring our internet capacity from major upstream IP transit networks, Fastly aims to be one of the most accessible interconnection networks around the world. Our presence at 42 internet exchange points (IXPs) means that networks interested in directly connecting to Fastly can do so at a variety of locations and mediums, whether via an IXP or through a direct cross connect. We've also recently joined the Japan Internet Exchange (JPIX) and upgraded our capacity to the BroadBand Internet eXchange (BBIX) in both Tokyo and Osaka, Japan. For those networks interested in connecting to Fastly directly, our network map, peering policy, and peeringDB page are great sources of information to help get you started.
Large traffic spikes are normal, day-to-day events for our customers. Whether those spikes are good (e.g., a wildly successful sale or a viral article) or not so good (e.g., an attack), our continued work to evolve and scale the Fastly edge cloud platform ensures we'll always have the capacity to handle them.