Ringing in 2018 with 46 POPs & 20 Tbps of connected edge capacity
The Fastly Infrastructure and Edge Cloud Operations Teams wrapped up 2017 by completing major milestones in our point of presence (POP) deployments around the globe AND achieving 20 terabits per second (Tbps) of connected edge capacity. In December 2017 alone, we activated three new locations on our global network: Cape Town, South Africa; a new 100GE-enabled POP in Tokyo, Japan; and a long-awaited deployment in Columbus, Ohio. Since our last update, we deployed additional US POPs in Atlanta, Georgia; Houston, Texas; and Palo Alto, California to double up our ability to serve traffic in these key internet hubs. These upgrades empower us to scale to meet customer demands, reduce latency, and improve resilience to our network.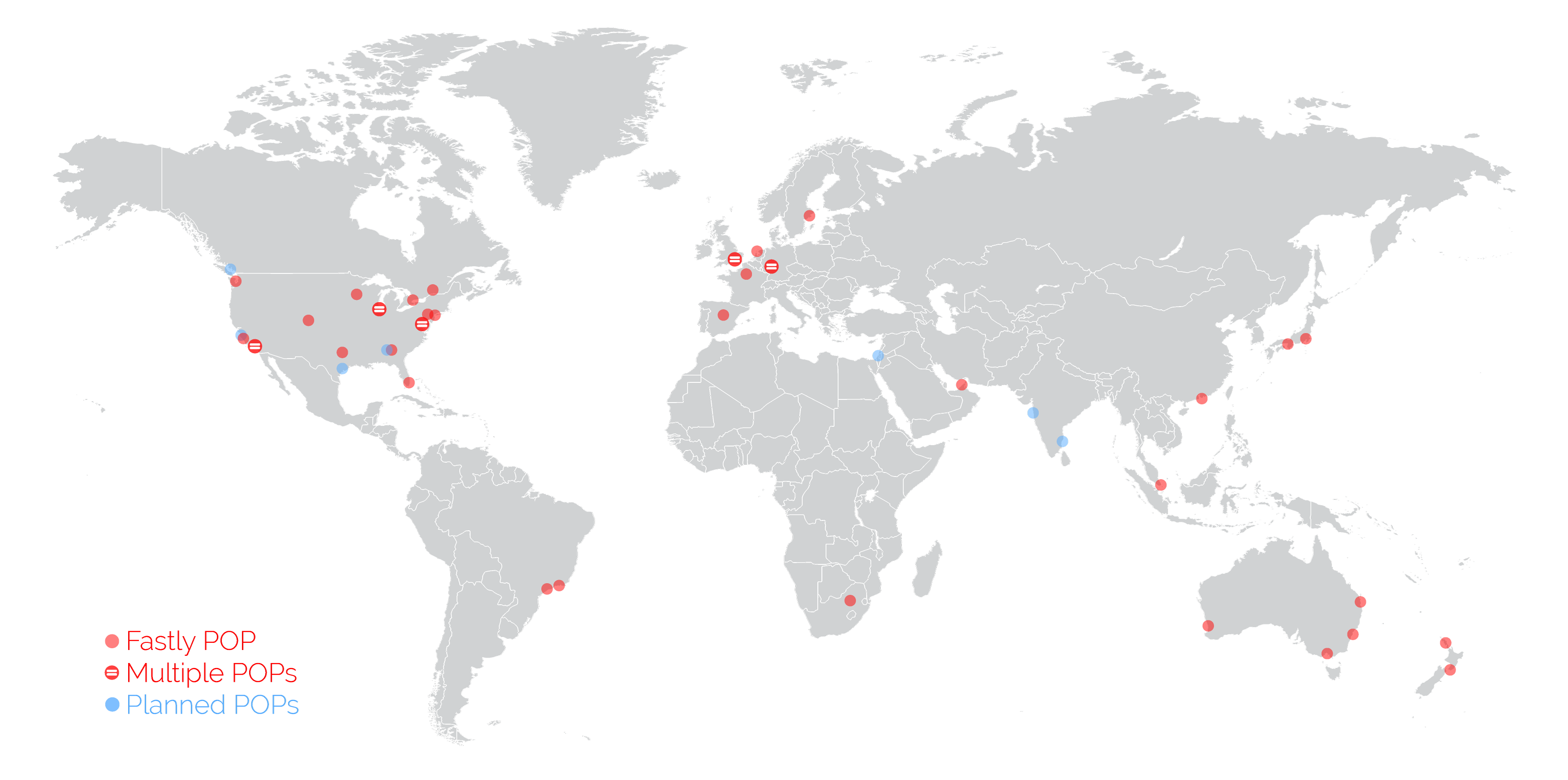 The Fastly network map: now with multiple POPs in metro areas!
As an edge cloud platform, network reliability is a top priority for us and our customers. The new 100GE-enabled POP in Tokyo provides a second POP in that metro market, offering needed capacity to support customer growth while providing resilience to our deployment in the region. Similarly, our deployment in Cape Town not only reduces latency in western South Africa but provides resiliency to our recently deployed Johannesburg POP. Fastly's internal traffic management systems allow us to move, balance, and redirect traffic to these locations on a performance and demand basis.
In North America, we are deploying our new 25/100GE POP architecture in major internet hubs, and in many cases, doubling up the deployments in these metro markets, such as Atlanta. In other markets, such as Palo Alto and Houston, we are reaching new connectivity hubs that provide us with geographic diversity to existing deployments. Finally, in the case of a POP like Columbus, we are chasing the ever-moving edge of the internet, driven by massive growth of data consumption around the traditional core hubs of the internet.
Milestone passed: 20 Tbps of edge capacity
As CEO Artur Bergman recently noted, when you're building something special, time passes differently. Just ten short months ago we were at 10 Tbps of connected edge capacity, and we've since doubled that to 20 Tbps. Fastly now serves over 10% of all internet requests and our network traffic has grown by 70%; we've attached a lot more connectivity to our network to help support our customers' growth.
We scale our network with care in order to focus on delivering a consistent and reliable platform to our customers. As our customers continue to grow, we grow alongside them to ensure we can meet their demands. Over the course of 2017, our investment in 100GE technology, combined with our aggressive expansion roadmap, unlocked an additional major milestone — attaining 20 Tbps of connected edge capacity! 20 Tbps is a lot of bandwidth to even try quantify, but here goes: if we could pipe this capacity into your home, you could download the entire 600 hour original content catalog of a major US streaming provider in 9 minutes! For the tech savvy, that's 600 hours at 1080P resolution using an average bitrate of 5 Mbps; roughly 1.35PB in total over 20 Tbps = 9 minutes!
A large number of our North America and Europe IP transit links are delivered from our providers over 100GE ports. When we connect to new internet exchange points (IXPs), such as Coresite Any2 Los Angeles, we now simply drop in 2x100GE ports. When we needed to scale up capacity to the Equinix Chicago Exchange, we re-used some existing cross connects to upgrade from 60Gbps of capacity to 200Gbps of capacity overnight.
New POP deployments in hub markets get deployed with our 25/100GE technology, as noted above. The same applies to upgrades — in Q4 2017, we overhauled our POPs in Dallas, Texas; London City, UK; and Osaka, Japan. Each of these deployments now have the capability to run 100GE ports out to IP transit providers, internet exchanges, and partner networks.
Also in Q4, we connected to more IXPs, including Equinix Atlanta, Equinix Tokyo, NAPAfrica Cape Town, and Coresite Any2 Los Angeles. We upgraded our connectivity to the Equinix Singapore Exchange with 2x100G in addition to Equinix Chicago Exchange (mentioned above). Our increased interconnect density makes it easier for other networks to reach Fastly, further improving customer experiences.
2018 and beyond
Stay tuned — Our Q1 2018 plan calls for 10+ deployment activities (new POPs or upgrades) around the globe! Our teams completed physical upgrades in three existing metro markets which we'll bring live in January. As always, we're continuing to build powerful POPs in well-connected locations around the world; we have a new POP built (where can it be?!!!) in a long-awaited location (which is currently being tested prior to activation) — bringing the total count of POPs to 47. As usual, keep an eye on our status page for the latest updates. Happy New Year!