100 Tbps of Capacity: How Fastly Meets Today's Digital Demands
In 2011, seven of us launched the Fastly network with 40 gigabits per second of capacity. This week, nearly nine years later and more than 600 employees strong, we hit an important milestone — 100 terabits per second (Tbps) of global capacity. 
A network of this size allows us to stand at the ready with our customers — whether it's an event we can foresee and prepare for or a pandemic we cannot. With 72 points of presence (POPs) across 55 markets in 26 countries, and the ability to handle more than 800 billion requests a day (and counting), our software-defined network has been purposefully built to support and secure the best experiences on the modern web.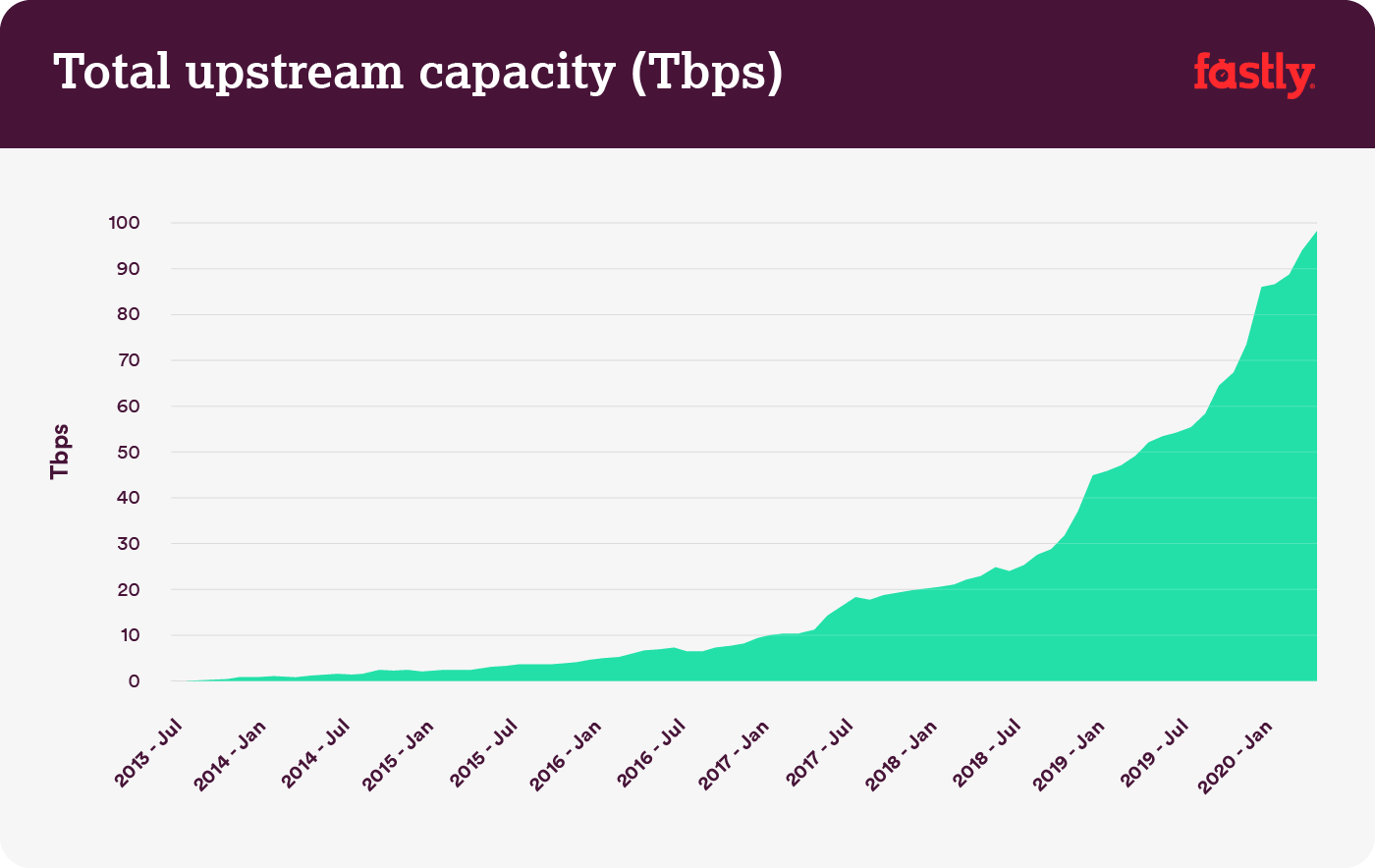 To put this growth into perspective, we can take a look back at 2016 and how we prepared our network for that year's U.S. presidential election. For months, our teams worked to increase our capacity so that we could handle both anticipated traffic spikes and potential attacks. We ramped up to 7.6 Tbps across 31 POPs to successfully meet the demands.
In the four years since, so much about the way we use the internet has changed: there are more people online and more devices in hand, files are larger, screen resolutions are higher, and security risks are greater. We continue to invest in efficiently growing our network so that we stay well ahead of today's threats and user expectations for our customers and partners, whether they're streaming live events, innovating at the edge, or withstanding DDoS attacks. Our focus on building our network's maturity globally is a testament to this; for example, every month since January 2017, our capacity in the EU, Asia, and Australia and New Zealand has grown on average by 5.87%, 8.94%, and 6.49% respectively.
As we look to the future — and the next 100 Tbps — we know our proactive approach to network expansion will continue to be critical to our growth. One important step forward is adding the talented team from Tesuto, as well as acquiring their virtual network emulation technology, giving us an important tool for scaling and rapidly deploying our secure global platform. By emulating networks at scale, Tesuto's tech creates sandbox environments that simulate the entire Fastly network, providing a view into the potential impact of a deployment cycle before it is put into production. This network "staging environment" will help us continue to improve network design, streamline hardware and software deployments, and enhance our efficiency as we continue to scale and grow.
Exciting advancements in IoT, 5G, wearable tech, and our own serverless compute environment — Compute@Edge — are unfolding every day. And our commitments to scaling and enabling our customers to build the digital experiences of tomorrow remain top of mind. Although we can't predict the amazing innovations our customers will build with these technologies, we can confidently protect and support them with a modern global network on which most anything is possible.